Description
INTRODUCTION
Note: This product includes micro: Maqueen Plus v2 and micro:Maqueen Mechanic (Forklift, Push, Beetle, and Loader).
micro: bit board and batteries are not included.
What's new in Maqueen Plus V2?
1. Two versions to choose from: 4 AA battery and 18650 battery
2. New plastic box with a deeper base, enough room for the assembled car
3. Frosted acrylic protective plate at the bottom, more durable and reliable
4. The number of Line-tracking sensors has changed from 6 to 5, more convenient to program and optimize line-tracking codes
5. Employs the motors whose parameters are the same as previous Maqueen, running steadily and smoothly
6. Changes ultrasonic sensor to SR04, easier to install
7. Add 4 RGB ambient lights at the base, RGB car lights have been changed to LEDs
8. Delete the less usable magnetic encoder
Maqueen Plus V2 is the latest version of the STEAM educational robot Maqueen Plus. Optimized with more expansion ports, larger capacity power supply and larger body, it is fully compatible with more peripheral components like HuskyLens AI camera, Maqueen Mechanic Kits, which makes it an accessible STEAM robot teaching tool for primary and secondary students. Maqueen Plus V2 is not only suitable for classroom teaching, but also can be used for after-school extended exercises and robot competitions.
Besides all the functions of Maqueen Lite, it offers richer and more flexible functions and stronger performance. Whether you have ever used Maqueen Series products or not, you'll find it very easy to get started.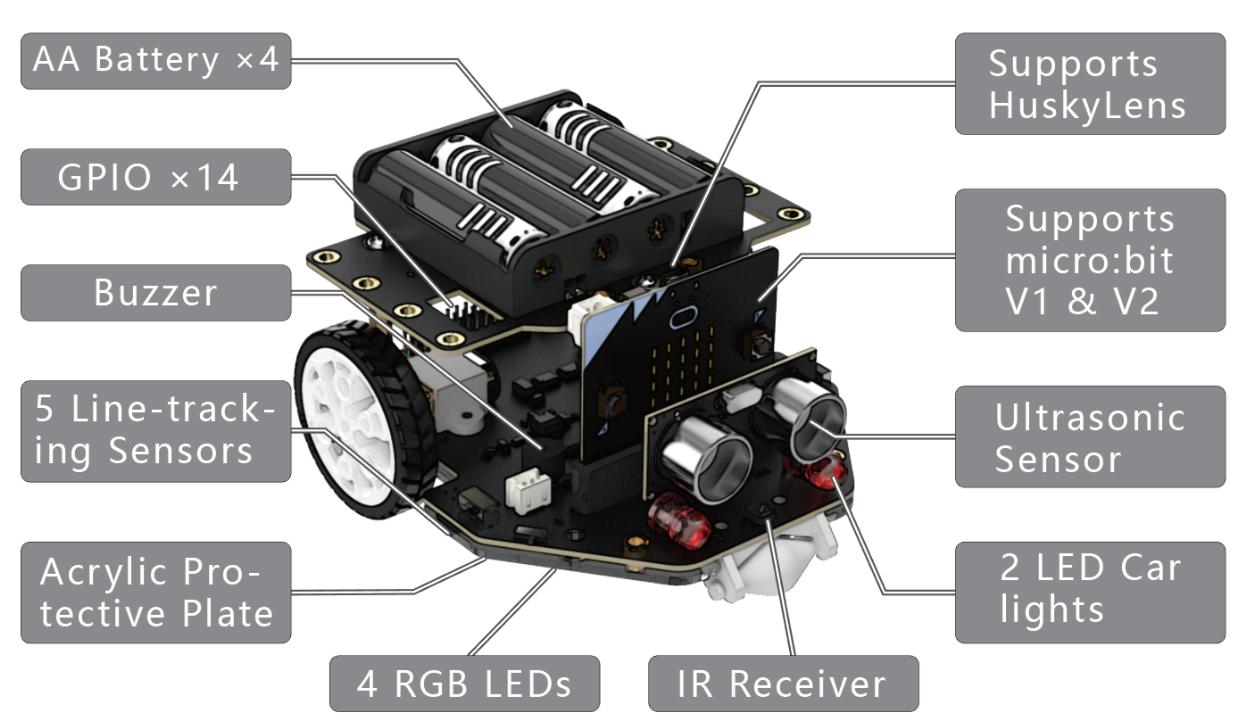 FEATURES
No complex assembly, get started in minutes
More IO expansion ports: 3.3V IOx7, 5V IOx3, I2Cx3
5 line-tracking sensors, reliable and flexible
Larger body, more flexible expansion methods
Two versions to choose from: AA battery and 18650 battery
    AA battery version supports 1.2V Ni MH battery or 1.5V alkaline battery, while 18650 battery version supports 3.7V 18650 battery
Works well with HuskyLens AI camera
Rich peripherals: IR receiver, LED car lights, RGB ambient lights, buzzer, ultrasonic sensor, etc.
Frosted acrylic protective plate at the bottom
Storage box with a deeper base to provide enough room for the assembled Maqueen Plus car
APPLICATIONS
STEM Education
SPECIFICATION
Power Supply: 1.5V AA alkaline battery x 4 or 1.2V AA Ni-MH battery x 4
Support micro: bit V1 and V2
N20 All-metal Gear Motor x 2
Motor Reduction Ratio: 1:150
Motor Rated Rotation Speed: 133 rpm
Buzzer x 1
5V IO (P0 P1 P2) x 3
3.3V IO (P0 P1 P2 P8 P9 P12 P16) x 7
3.3V I2C x 2
5V I2C x 1
Large Size LED Car Lights x 2
RGB Ambient Lights x 4
Line-tracking Sensor x 5
Line-tracking Sensor with One-key Calibration
IR Receiver x 1
SRO4 Ultrasonic Module x 1
Dimension: 136mm×65mm/5.35×2.56"
Programming Platform: Mind+, MakeCode
Wiki Address:
MakeCode Library Address:

 

https://github.com/DFRobot/pxt-DFRobot_MaqueenPlus_v20
DOCUMENTS
Product Includes:
Maqueen Plus *1 
micro:Maqueen Mechanic *1
Ultrasonic Sensor *1 
Top Metal Plate * 1 
Wheel *2 
Copper Pillar *3 
Instructions *1 
Line-tracking Map *1
micro: Maqueen Mechanic:
Loader Servo Panel *1 
Loader Bucket *1 
Pan-tilt-zoomMount Plate *2 
Trolley Plate *1 
Ultrasonic MountHolder *1 
Arm Servo Base *1 
Arm Baseplate *1 
Arm Linkage *3 
Arm Plate *1 
Servo Arm Linkage *1 
Forklift Plate *1 
Gripper Upper Arm *2 
Gripper DrivenForearm *1 
Gripper ServoForearm *1 
Gripper Panel *1 
M3*35mm Copper Bolt *2 
M3*25mm Copper Bolt *2 
M3*15mm Copper Bolt *6 
M3*17mm Copper Bolt *3 
9g servo *2 
M2.5*5mm nut *12 
M3*5mm nut *45 
Installation Manual *1 
Shipping rates Australia wide 
Australia wide
Express Post*
Regular Post
Courier
Up to 500 gms
$13.09
$8
$20
Up to 3 kg
$16.39
$11.43
$25
Up to 5 kg
$32.89
$22
NA
Above 5 kg

Estimated at checkout
 Shipping rates to New Zealand
| | |
| --- | --- |
| | New Zealand |
| | Australia Post international service |
| Up to 500 gms | $18.00 |
| Up to 1 kg | $30.00 |
| Above 1 kg | Available on request |
FAQ:
How do I estimate shipping for my order?

Add products in the shopping cart and head to the 

checkout page

to estimate the shipping.
Dispatch time
Unless expressly agreed otherwise with you, we will not commence delivery of an order until we have received cleared payment of the purchase price in full.
All orders placed before 11 am AEST (Monday to Friday) will ordinarily be processed on the same day.
We will endeavour to ship the Products by the applicable time indicated on the website, but all times are indicative only.  All shipping times are dispatch times only, and actual delivery dates will depend on the shipping method chosen, delivery address and delivery service provider. 
Note- Please make a note during purchase if you require any item urgently. However we cannot guarantee that we will be able to comply with any request. 
*Go to Australia post delivery time calculation to get various Australia post service in your area please use our shipping postcode Rosanna, 3074 as the "from" address - https://auspost.com.au/parcels-mail/delivery-times.html?ilink=tools-open-deliv-times.
Shipping Destinations
We ship all products throughout mainland Australia, Tasmania and New Zealand - Including Darwin, Melbourne, Sydney, Tasmania, Adelaide, Brisbane, Perth, all metro and regional areas but do not deliver to areas in Australia where the Australia Post delivery network is not available. 
Check Express shipping delivery coverage area at - http://auspost.com.au/parcels-mail/delivery-areas.html
Receipt of deliveries
Deliveries to post office boxes are not permitted where delivery is by courier. If delivery is by courier and nobody is available at the delivery address to accept delivery when delivery is attempted then the courier may either:
leave the relevant parcel at the unattended address (the courier will do so if specified in your delivery requirements); or

re-attempt delivery at a later time or date, in which case we may charge you an additional re-delivery fee.

 
Note that if a delivery is left unattended at the shipping address and is subsequently stolen then the theft is your responsibility, not ours.
Payment & Security
Your payment information is processed securely. We do not store credit card details nor have access to your credit card information.