The default program of mBot has been optimized regarding this change. Users can check whether mBot is functioning using the onboard button.

 

 
  

What is mBot?

mBot is an all-in-one solution to enjoy the hands-on experience of programming, electronics, and robotics. Working with mBlock inspired by Scratch 2.0, connecting with computers or smart devices via Bluetooth or 2.4G (by different version), this easy-to-assemble mBot provides infinite possibilities for you to learn STEM (Science, Technology, Engineering, Mathematics).

What's New? – Children Safeguard

Compared to the previous verison, mBot V1.1 comes with a casing specially designed for protecting main control board.

  
  

What's New? – Better Auxiliary Wheel

 

Contracted But Not Simple

Contains 38 assembly parts that can be assembled in 10 minutes and color-labeled RJ25 ports for convenient wiring, making sure more time can be spent on programming and creativity.

  
  

Graphical Programming

Drag-and-drop graphical programming software mBlock developed based on Scratch 2.0 and 3.0 

Fun, and Fun

mBot is all about fun and creativity. 

  

  

Infinite Extensibility

The mechanical body of the mBot is compatible with Makeblock platform and most of modular blocks.

Unique Curriculum System

To help teachers, parents, or children get started easier and faster, you will also find that we provide online manuals and two online courses that will be updated regularly. 

  
What's New?
Bluetooth or 2.4G?
If you're trying to figure out the difference between Bluetooth version and 2.4G version, or your smart device cannot connect to mBot, please check the version of your mBot first. Here is comparison chart:
 

Bluetooth Version

2.4G Version

Suitable
Individual users of family
Classroom
Host computer
Support Bluetooth
No
Pairing
Bluetooth Pairing
No pairing,the same technology
with wireless mouse
Driver needed
Yes
No
App
Yes
No
Connection
Wireless connection with smartphones, tablets,
and PCs with Bluetooth capability
Wireless connection with PC via 2.4G adapter
Apple? device

1) iOS 9 or above

2) Bluetooth?4.0 or above

*exclude iPad?1, iPad?2, iPhone?4 or below

Not Support
Android? device

1) Android?4.3 or above

2) Bluetooth?2.0 or above

Not Support
Specifications

Software and programming
mBlock(graphical) Mac, Windows, 

 

iPad mBlocky
Arduino IDE
Inputs
Light Sensor, Button, IR Receiver, Me Ultrasonic Sensor, Me Line-follower Sensor
Outputs
Buzzer, RGB LED, IR Transmitter, two motor ,ports
Microcontroller
Based on Arduino Uno
Power
3.7V Lithium battery(charger on board) or four 1.5V AA batteries (not included)
Wireless Communication
Bluetooth(Bluetooth Version)
2.4GHz wireless serial(2.4G Version)
Dimensions
17 x 13 x 9 cm assembled
2.4G Version
1 × Chassis
1 × mCore Case
1 × mBot Li Battery Shell
1 × Battery Holder
2 × Wheel
1 × Mini Caster Wheel
1 × Route Map
2 × Velcro
1 × Screw Driver
2 × 6P6C RJ25 Cable
1 × USB Cable
15 × Screw M4*8
4 × Brass Stud M4*25
8 × M3 Nut
6 × Screw M3*25
4 × Screw M2.2*9
1 × mCore
1 × Me Ultrasonic Sensor
2 × Motor
1 × Me Line Follower
1 × 2.4G Module
1 × IR Controller
Shipping rates Australia wide
Australia wide
Express Post*
Regular Post
Courier
Up to 500 gms
$9.79
$6.75
$15.99
Up to 3 kg
$15.00
$11.40
$15.99
Up to 5 kg
$30.00
$22.11
NA
Above 5 kg

Estimated at checkout
Shipping rates to New Zealand
| | |
| --- | --- |
| | New Zealand |
| | Australia Post international service |
| Up to 500 gms | $18.00 |
| Up to 1 kg | $30.00 |
| Above 1 kg | Available on request |
FAQ:
How do I estimate shipping for my order?

Add products in the shopping cart and head to the 

checkout page

to estimate the shipping.
Dispatch time
Unless expressly agreed otherwise with you, we will not commence delivery of an order until we have received cleared payment of the purchase price in full.
All orders placed before 11 am AEST (Monday to Friday) will ordinarily be processed on the same day.
We will endeavour to ship the Products by the applicable time indicated on the website, but all times are indicative only.  All shipping times are dispatch times only, and actual delivery dates will depend on the shipping method chosen, delivery address and delivery service provider. 
Note- Please make a note during purchase if you require any item urgently. However we cannot guarantee that we will be able to comply with any request. 
*Go to Australia post delivery time calculation to get various Australia post service in your area please use our shipping postcode Rosanna, 3074 as the "from" address - https://auspost.com.au/parcels-mail/delivery-times.html?ilink=tools-open-deliv-times.
Shipping Destinations
We ship all products throughout mainland Australia, Tasmania and New Zealand - Including Darwin, Melbourne, Sydney, Tasmania, Adelaide, Brisbane, Perth, all metro and regional areas but do not deliver to areas in Australia where the Australia Post delivery network is not available. 
Check Express shipping delivery coverage area at - http://auspost.com.au/parcels-mail/delivery-areas.html
Receipt of deliveries
Deliveries to post office boxes are not permitted where delivery is by courier. If delivery is by courier and nobody is available at the delivery address to accept delivery when delivery is attempted then the courier may either:
leave the relevant parcel at the unattended address (the courier will do so if specified in your delivery requirements); or

re-attempt delivery at a later time or date, in which case we may charge you an additional re-delivery fee.

 
Note that if a delivery is left unattended at the shipping address and is subsequently stolen then the theft is your responsibility, not ours.
Customer Reviews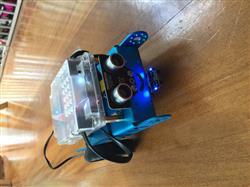 09/05/2017
Great service!
It was really easy. Goods arrived on time and in perfect condition. Great little robot too!my nephew loves it.
22/04/2016
MBot
Excellent, works very well and fantastic service with fast delivery and easy payment
13/01/2020
A STEAM workshop using mBot
This is my third mBot and I will be using it to present a STEM workshop next Monday on AI and Robotics. Starting with the AI and the NVIDIA Jetbot deep learning will be explored and applied to robotics. The following day I will go back to basics and use mBot and various optical navigation schemes such as line detectors and a Pixy2 camera to navigate mBot. mBot will be used as a fire fighting robot and will recognise water, fire and houses. Steel balls will be used to simulate water and a Grove electromagnet controlled by mBot will pickup the water and deliver it to houses near the fire. Hope that kids attending the working will develop a real fire fighting robot in the future. mBot is still the best supported simple robot for STEM education and encourages discovery,creativity and learning about robotics.
Philip M.
Australia
24/11/2019
Thank you
My purchase arrived very quickly, it is a present for my grandson. I cannot wait to give it to him at Christmas time, thank you.
Anonymous
Australia
10/06/2019
Robot purchase
Great service. Extremely helpful consultant on phone and quick delivery.