The Tetris® MicroCard is the ultimate on-the-go gaming hardware for those moments where you want to take a quick Tetris break! The Tetris MicroCard is powered by Arduboy, the game system the size of a credit card.
• The Arduboy team has developed customized hardware that delivers an amazing and officially licensed Tetris experience!
• Brilliant OLED display in portrait layout for optimal Tetris game play.
• Super durable construction featuring six control buttons and mute switch.
• USB rechargeable with six hours of battery life.
• Bit OLED Matrix Display, 128x64 Pixels
• 8-Bit Microcontroller, ATmega 328P
• Polycarbonate and Anodized Aluminum Construction
• Piezo Speaker with Mute Switch
• 6 Hour Battery, 180mAh Lithium Polymer
• Recharge with Included Micro-USB Cable
• 6 Soft Click Buttons
• 85mm (3.3in) × 53mm (2.1in) × 5mm (0.2in)
Playing the Tetris® MicroCard is fun and easy! Turn on the power switch and begin playing! Follow the steps below to get started!
• 1 x Tetris® MicroCard
• 1 x USB Cable
• 1 x User Manual
Tetris ® & © 1985~2017 Tetris Holding. Tetris logos, Tetris theme song and Tetriminos are trademarks of Tetris Holding. The Tetris trade dress is owned by Tetris Holding. Licensed to The Tetris Company. Tetris Game Design by Alexey Pajitnov. Tetris Logo Design by Roger Dean. All Rights Reserved.
This product contains a battery. Shipping constrictions may apply.
Shipping rates Australia wide
Australia wide
Express Post*
Regular Post
Courier
Up to 500 gms
$10.89
$6.59
$20
Up to 3 kg
$16.39
$11.43
$25
Up to 5 kg
$32.89
$22
NA
Above 5 kg

Estimated at checkout
Shipping rates to New Zealand
| | |
| --- | --- |
| | New Zealand |
| | Australia Post international service |
| Up to 500 gms | $18.00 |
| Up to 1 kg | $30.00 |
| Above 1 kg | Available on request |
FAQ:
How do I estimate shipping for my order?

Add products in the shopping cart and head to the 

checkout page

to estimate the shipping.
Dispatch time
Unless expressly agreed otherwise with you, we will not commence delivery of an order until we have received cleared payment of the purchase price in full.
All orders placed before 11 am AEST (Monday to Friday) will ordinarily be processed on the same day.
We will endeavour to ship the Products by the applicable time indicated on the website, but all times are indicative only.  All shipping times are dispatch times only, and actual delivery dates will depend on the shipping method chosen, delivery address and delivery service provider. 
Note- Please make a note during purchase if you require any item urgently. However we cannot guarantee that we will be able to comply with any request. 
*Go to Australia post delivery time calculation to get various Australia post service in your area please use our shipping postcode Rosanna, 3074 as the "from" address - https://auspost.com.au/parcels-mail/delivery-times.html?ilink=tools-open-deliv-times.
Shipping Destinations
We ship all products throughout mainland Australia, Tasmania and New Zealand - Including Darwin, Melbourne, Sydney, Tasmania, Adelaide, Brisbane, Perth, all metro and regional areas but do not deliver to areas in Australia where the Australia Post delivery network is not available. 
Check Express shipping delivery coverage area at - http://auspost.com.au/parcels-mail/delivery-areas.html
Receipt of deliveries
Deliveries to post office boxes are not permitted where delivery is by courier. If delivery is by courier and nobody is available at the delivery address to accept delivery when delivery is attempted then the courier may either:
leave the relevant parcel at the unattended address (the courier will do so if specified in your delivery requirements); or

re-attempt delivery at a later time or date, in which case we may charge you an additional re-delivery fee.

 
Note that if a delivery is left unattended at the shipping address and is subsequently stolen then the theft is your responsibility, not ours.
Customer Reviews
Write a Review
Ask a Question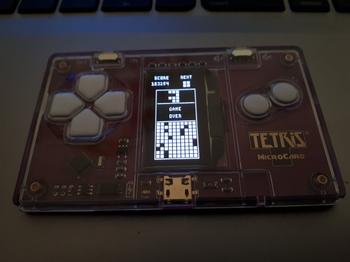 03/08/2018
How is this a good Tetris game?
This is described as wallet tetris, and it's actually perfect for that. It's got the vast majority of features you'd expect from a licensed tetris these days. Bag randomisation, shadow piece, the scoring system even recognises back to back tetris and t-spins. No hold piece, only one next piece gives the game a distinct retro feel. But a high contrast black and white screen, with nicely clicky buttons makes the whole experience a joy to play. All in all this has become one of the favourite gadgets I own, and it's a really cool gift for the tetris fanatic in your life.
31/05/2019
A review of the Tetris Microcard
This is one of the better portable ways of playing Tetris and is much better then the newer micro arcade version in my opinion. If you're someone who just wants to pull out a quick game of tetris on a device you can easily carry around i'd say its great for that. If its not something you think you'd use that often then consider the cheaper microarcade option or a portable port. For me Personally the product was exactly what i wanted.
03/11/2018
Good service
Good, even though there was a small delay the service was good
21/10/2018
Wasn't aware I needed this in my life
Perfect tetris device, a little pricey if you are just buying it as a trinket. But considering I'll likely be using it daily due to it's sheer convenience makes it definitely worth it for me. I was worried the buttons were going to be too small but they aren't really that small at all, and are in fact a fairly standard size. I would definitely recommend this to anyone interested in tetris!