Note: Includes Solar Power Manager 5V and Semi Flexible Monocrystalline Solar Panel (5V 1A).
The DFRobot Solar Power Manager series are designed for IoT projects and renewable energy projects, providing safe and high-efficiency embedded solar power management modules for makers and application engineers.

Solar Power Manager 5V is a small power and high-efficiency solar power management module designed for 5V solar panel.
It features as MPPT (Maximum Power Point Tracking) function, maximizing the efficiency of the solar panel. The module can provide up to 900mA charging current to 3.7V Li battery with USB charger or solar panel. The ON/OFF controllable DC-DC converters with 5V 1A output satisfies the needs of various solar power projects and low-power applications. The module also employs various protection functions for battery, solar panel and output, which greatly improves the stability and safety of your solar projects.
 
Check the brief specification for all Solar Power Manager Series Products.
 
Version History
V1.0: It is highly recommended to use a 3.7V lipo battery with protection circuits to improve battery safety.
V1.1(Newest): Battery (BAT IN) overcurrent and overdischarge protection is added to improve battery safety. It can be use for 3.7 lipo battery no matter it is packed with protection circuits or not.

Board Overview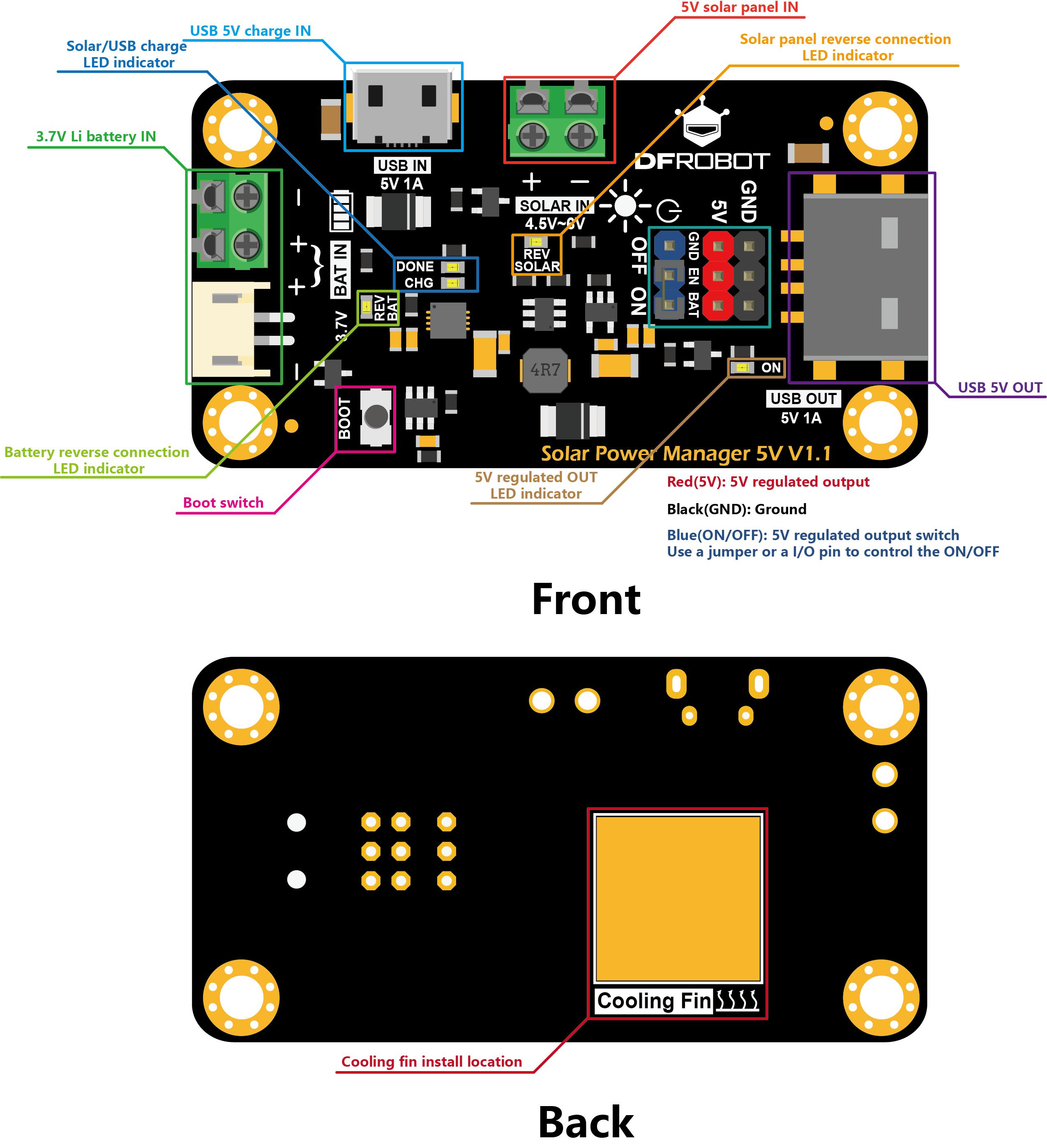 Solar Power Manager 5V
Connection Diagram

Build a solar powered system
Solar Power Manager Series

Name

Solar Power Manager v1.0
Solar Power Manager 5v v1.1
Solar Power Manager Micro v1.0
Solar Power Manager v1.0
SKU

DFR0535

DFR0559

DFR0579

DFR0580

Solar PowerManagement IC

LTC3652

CN3065

SPV1050

CN3767

Solar Input Voltage

7V-30V

4.4V-6V

0.5V-4V

15V-25V

Maximum ChargeCurrent

2A(Solar/USB)

900mA(Solar/USB)

70mA(Solar)/100mA(USB)

4A(Solar)

Topology

DC-DC Buck

Linear Regulator

DC-DC Boost

DC-DC Buck

Battery

3.7V Lithium Battery

3.7V Lithium Battery

3.7V Lithium Battery

12V Lead-Acid Battery

MPPT

9V/12V/18V Optional

5V Fixed

75% Open Voltage

Fixed 18V

Battery Protections

Over Charge/Over Discharge/OverCurrent/Reverse Connection Protections

Over Charge/Over Discharge/OverCurrent/Reverse Connection Protections

Over Charge/Over Discharge/ReverseConnection Protections

Over Charge/Over Discharge/ReverseConnection Protections

Output Protections

Short Circuit/Over Current/Over HeatProtections

Short Circuit/Over Current Protections

Short Circuit/Over Current Protections

Short Circuit/Over Current/Over HeatProtections

USB Charge IN

Yes

Yes

Yes

No

USB OUT

5V 1.5A

5V 1A

No

5V 2.5A x2

Regulated OUT

Three Regulated Outputs3.3V 1A5V 1.5A9V/12V 0.5A

One Regulated Output5V 1A

One Regulated Output3.3V 90mA

Two Outputs5V 5A; 12V 8A

Dimension

78.0mm×68.0mm

33.0mm×63.0mm

30.0mm×30.0mm

68.0mm×68.0mm

Features

A complete multifunction solar powermanagement module.

Applications: Small Solar Street Lamp, Solar Powered Robots 

For 9V/12V/18V Solar Panels within20w

A small and easy-to-use 5V solarpower management module.

Applications: Solar Power Bank, SolarEnvironment Monitors

For 5V Solar Panels within 10W

A micro power solar powermanagement module for low-powersensors and controllers.

Applications: Wireless Sensor Network, BLE iBecon

For 1V/2V/3V Solar Panels within0.5W

A medium power solar managementmodule for 12V lead-acid batteries.

Applications: Street lighting, intelligentagriculture, environmental monitoringstation, UPS

For 18V Solar Panels within 100W
Features:
Constant voltage MPPT algorithm, maximizing solar panel efficiency
Designed for 5V solar panel
Double charging mode: solar/USB charger (900mA max charge current)
5V ON/OFF controllable regulated power supply for low-power applications
All-round protection functions
USB connector with ESD shell
Applications:
Smart solar environment monitor system
Solar powered robot
Small solar street lamp
Solar power bank
Specification:
Solar Power Management IC: CN3065
Solar Input Voltage (SOLAR IN): 4.5V~6V
Battery Input (BAT IN): 3.7V Single cell Li-polymer/Li-ion Battery
Charge Current(USB/SOLAR IN): 900mA Max trickle charging, constant current, constant voltage three phases charging
Charging Cutoff Voltage (USB/SOLAR IN): 4.2V±1%
Regulated Power Supply: 5V 1A
Regulated Power Supply Efficiency (3.7V BAT IN): 86%@50%Load
USB/Solar Charge Efficiency: 73%@3.7V 900mA BAT IN
Quiescent Current: <1 mA
Operation Temperature: -4085
Dimension: 33.0mm*63.0mm
Protection Functions:
BAT IN: over charge/over discharge/over current/reverse connection protection
5V/USB OUT: short circuit/over current/over heat protection
SOLAR IN: reverse connection protection
Documents:
Product Includes:
Solar Power Manager 5V x1
Semi Flexible Monocrystalline Solar Panel (5V 1A)x1
2.54mm Black Jumper x1
M3*10mm Nylon Pillar x4
M3*5mm Stainless Steel Screw x4
14*14*7mm Black Aluminum Cooling Fin x1
14*14*0.5mm Thermal Conductive Silicone Pad x1
Shipping rates Australia wide and New Zealand
Please add the items in cart and proceed to checkout to calculate shipping cost. We have range of shipping options once goods are ready to dispatch. 
1. Regular shipping: Goods will be shipped using Australia post regular shipping service. 
2. Express shipping: Goods will be shipped using Australia post EXPRESS shipping service. 
3. Express split shipping: Local stock from Melbourne will be shipped ASAP (1 business day) using EXPRESS shipment while remaining items from overseas stock when arrived in Melbourne shipped using second EXPRESS shipment. 
4. Pick up from Thomastown, Melbourne is available on appointment between 9 am to 3 pm during business days. 
FAQ:
How do I estimate shipping for my order?

Add products in the shopping cart and head to the 

checkout page

to estimate the shipping.
Dispatch time
Unless expressly agreed otherwise with you, we will not commence delivery of an order until we have received cleared payment of the purchase price in full.
All orders placed before 11 am AEST (Monday to Friday) will ordinarily be processed on the same day.
We will endeavour to ship the Products by the applicable time indicated on the website, but all times are indicative only.  All shipping times are dispatch times only, and actual delivery dates will depend on the shipping method chosen, delivery address and delivery service provider. 
Note- Please make a note during purchase if you require any item urgently. However we cannot guarantee that we will be able to comply with any request. 
*Go to Australia post delivery time calculation to get various Australia post service in your area please use our shipping postcode Thomastown, 3074 as the "from" address - https://auspost.com.au/parcels-mail/delivery-times.html?ilink=tools-open-deliv-times.
Shipping Destinations
We ship all products throughout mainland Australia, Tasmania and New Zealand - Including Darwin, Melbourne, Sydney, Tasmania, Adelaide, Brisbane, Perth, all metro and regional areas but do not deliver to areas in Australia where the Australia Post delivery network is not available. 
Check Express shipping delivery coverage area at - http://auspost.com.au/parcels-mail/delivery-areas.html
Receipt of deliveries
Deliveries to post office boxes are not permitted where delivery is by courier. If delivery is by courier and nobody is available at the delivery address to accept delivery when delivery is attempted then the courier may either:
leave the relevant parcel at the unattended address (the courier will do so if specified in your delivery requirements); or

re-attempt delivery at a later time or date, in which case we may charge you an additional re-delivery fee.

 
Note that if a delivery is left unattended at the shipping address and is subsequently stolen then the theft is your responsibility, not ours.
Payment & Security
Your payment information is processed securely. We do not store credit card details nor have access to your credit card information.