This kit includes Six-axis Robotic Arm (Based on a Raspberry Pi) and G-Shape Base. If you need Flat Base, please click the image of Kit 1.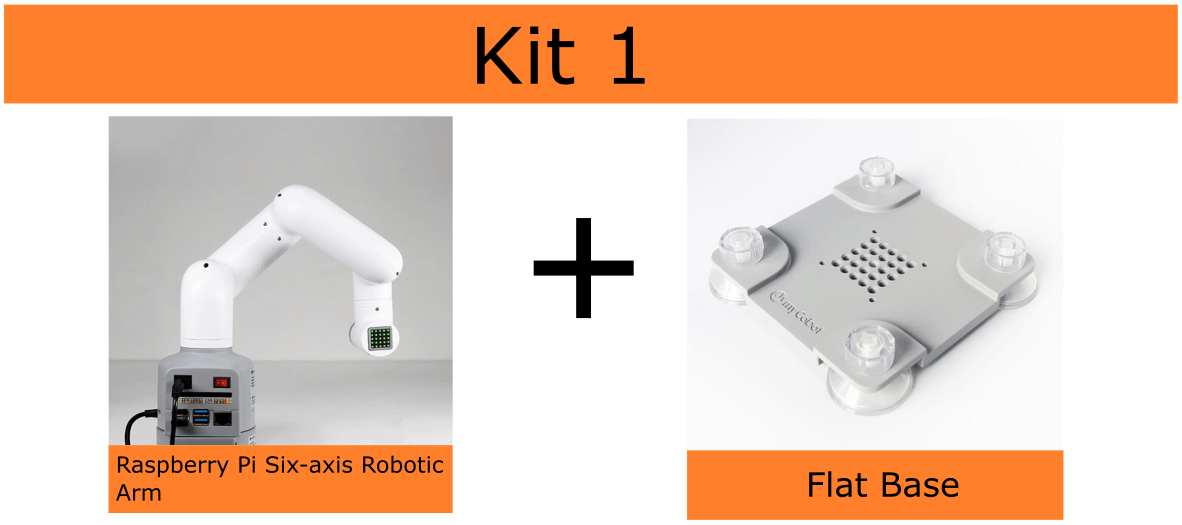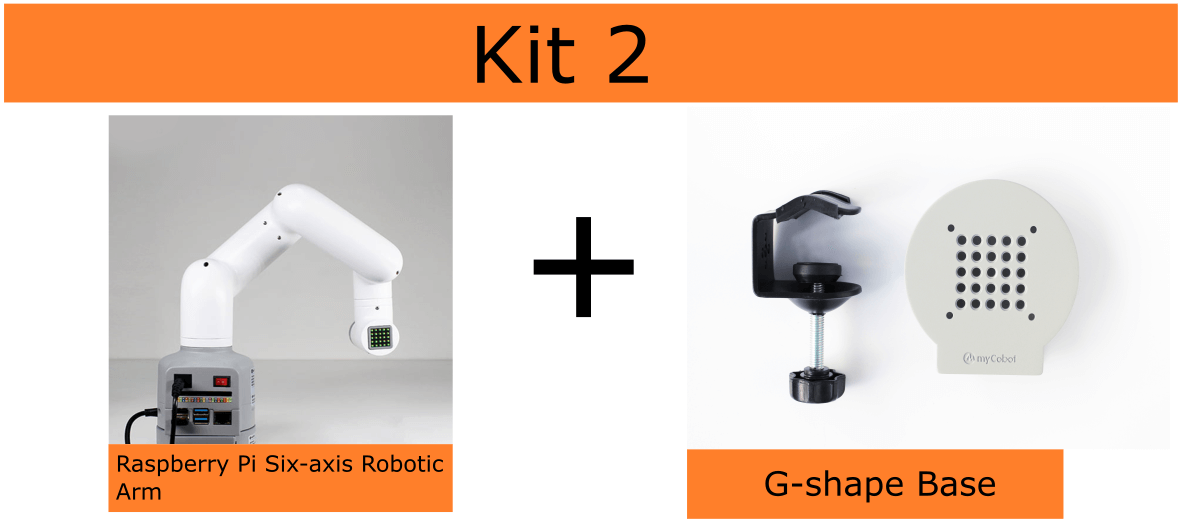 Introduction of Robotic Arm
This robotic arm will definitely lead you to a wonderful robot programming world!
Based on a Raspberry Pi microprocessor and built-in Ubuntu system, this small but powerful Raspberry Pi Six-axis Robotic Arm comes with a working range of 280mm and supports multi-platform secondary development. It runs independently without a PC and quickly creates a perfect programming environment for robotic algorithm developing, ROS simulation, etc. Just connecting it to peripherals, then users can use it for scientific research and teaching, smart home, light industry, or other commercial applications.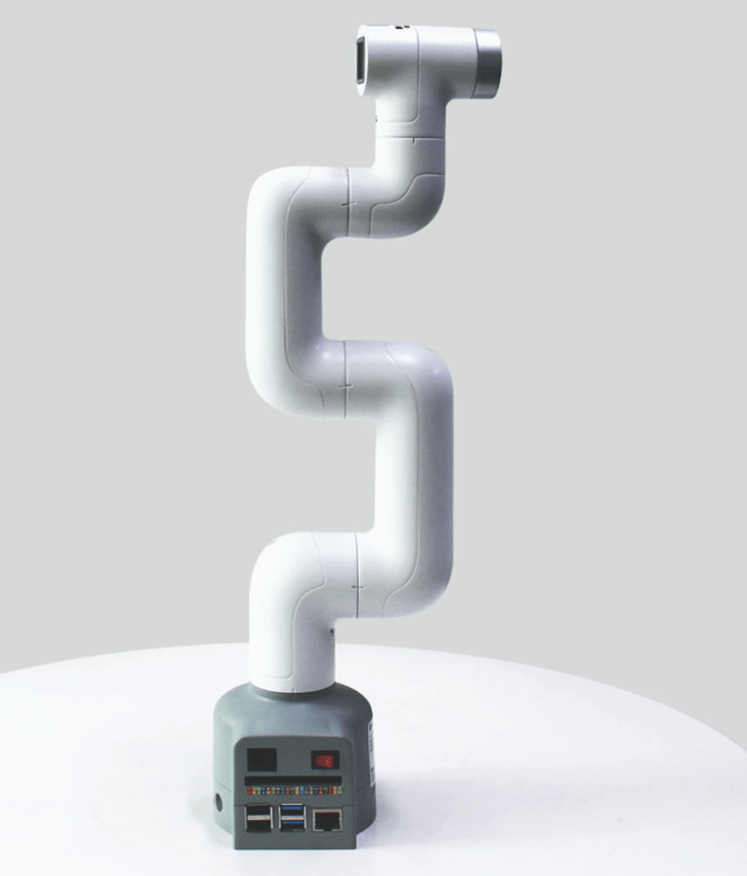 It consists of Raspberry Pi native hardware interfaces(4 USB, 2 HDMI, and standard GPIOs), tens of end effectors, terminal LEGO pins with various sensors, color visual tracking, QR code & gesture recognition, voice broadcast, etc.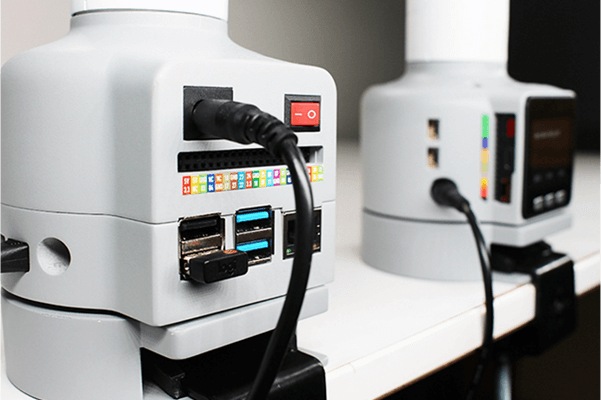 And it supports multiple coding languages such as c++, c#, Python, or graphic programming software like myBlockly and Mind+.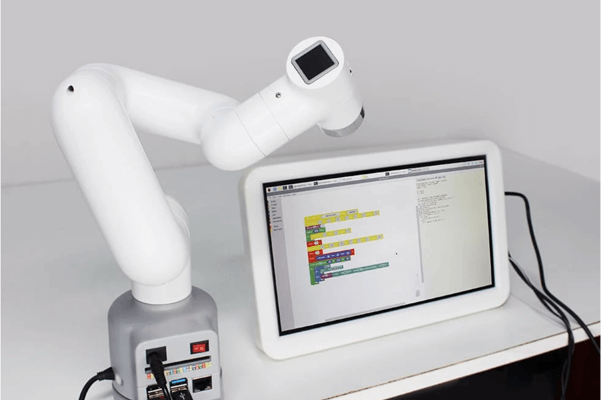 Besides, the compact all-in-one design makes it convenient to carry, easy to disassemble and replace, and plug-and-play.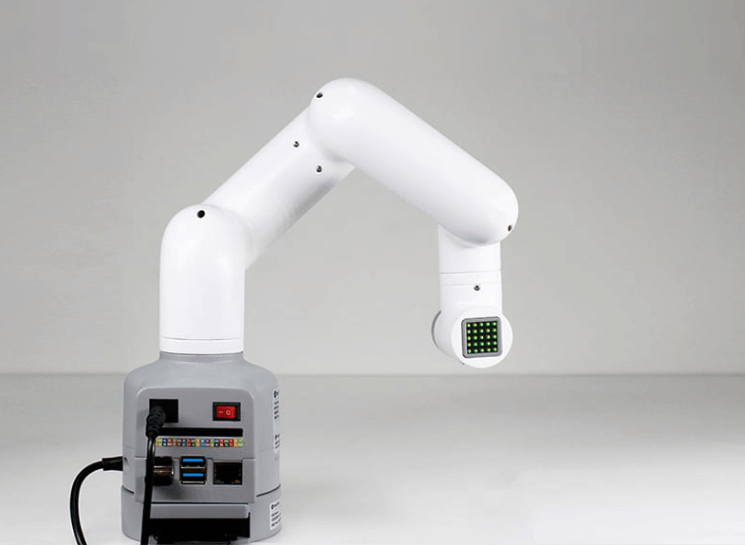 This robotic arm comes with an image recognition algorithm that can work with a variety of cameras; it can also independently match different accessories such as displays, grippers, and suction pumps for achieving more application scenarios.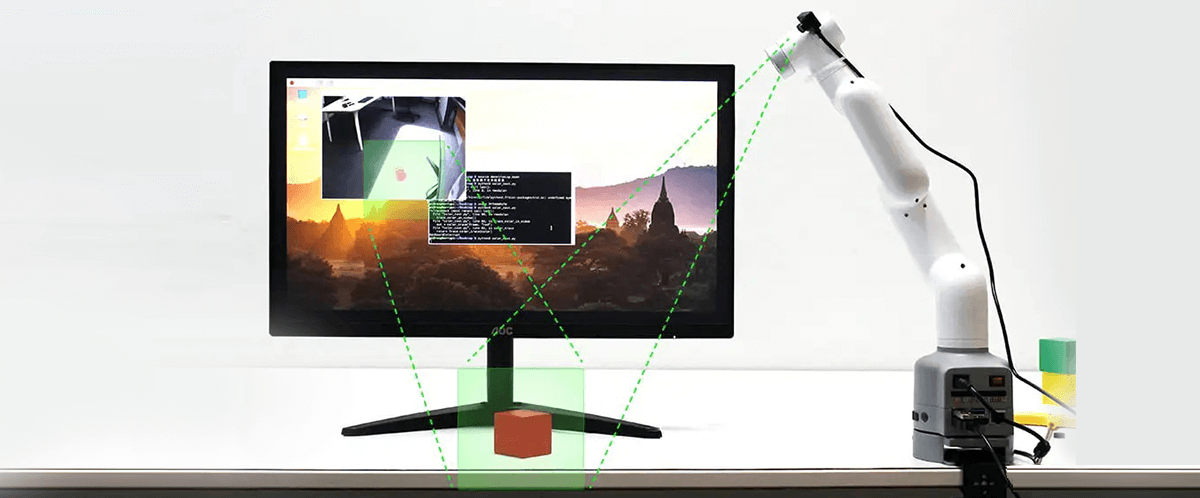 With a built-in ROS language, it's capable to simplify 6 DOF movements under Ubuntu System.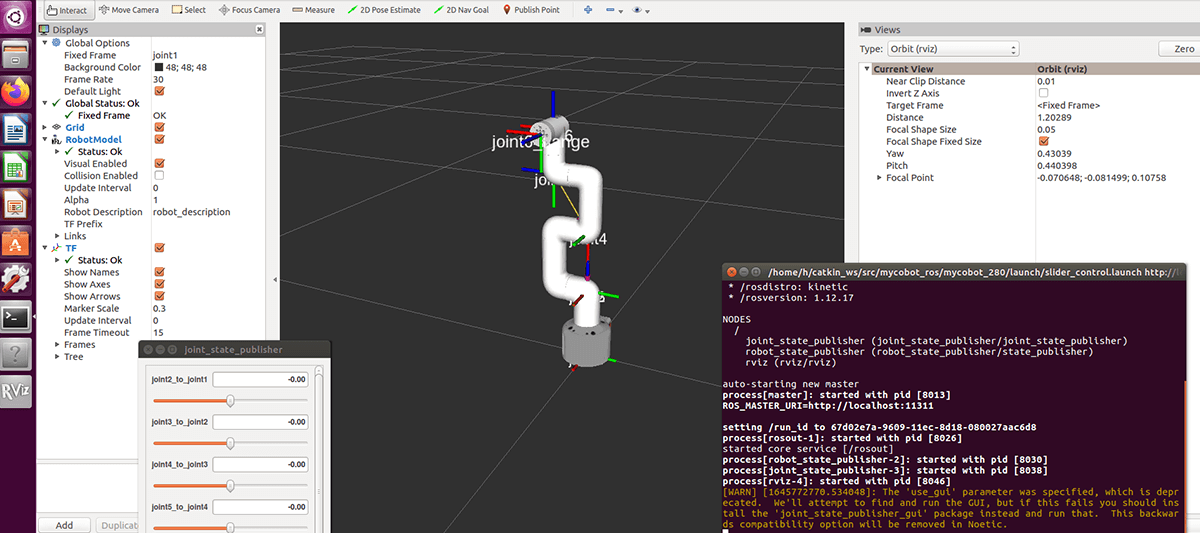 It contains 6 high-performance servo motors, which bring a fast response, small inertia, and smooth rotation. The base and the end are equipped with Lego connectors, easier for the development of various micro-embedded equipment.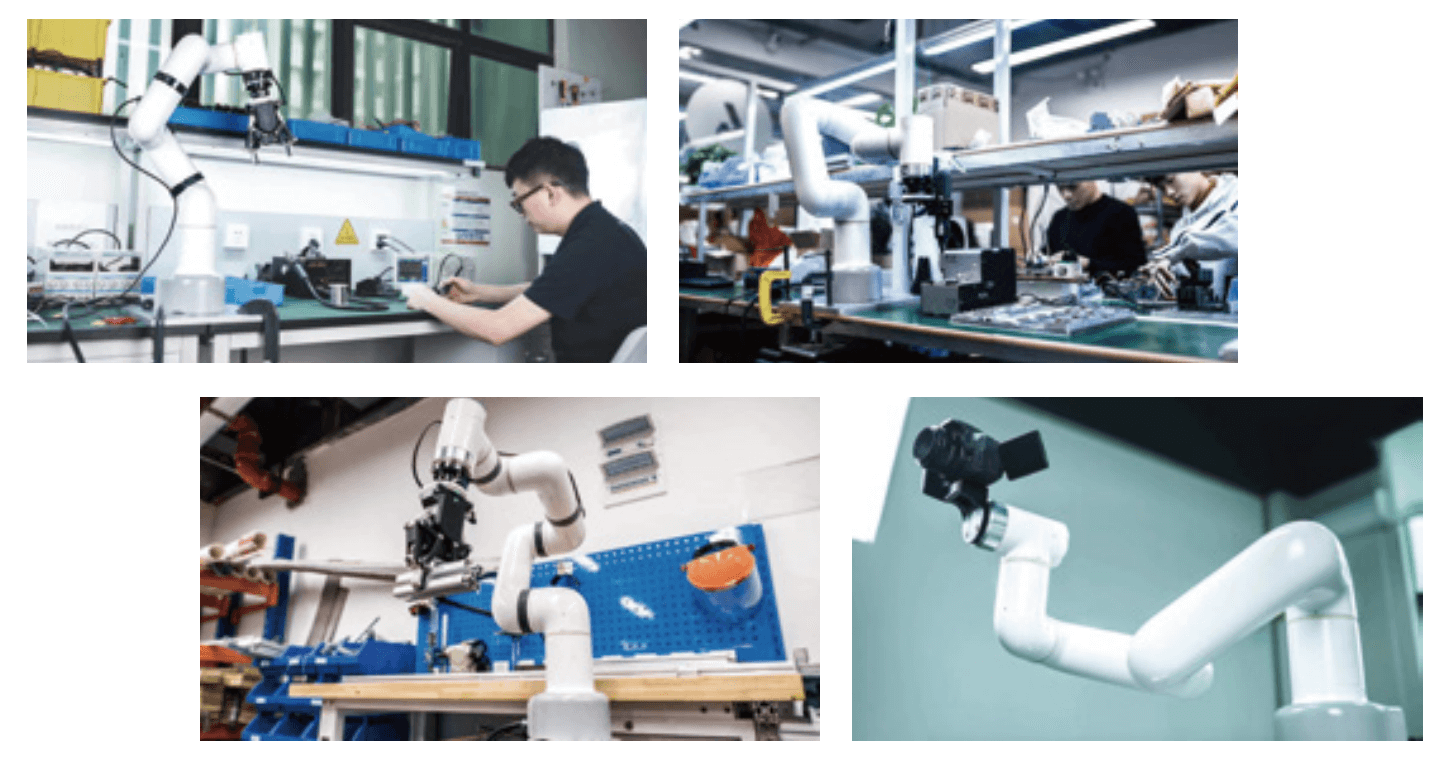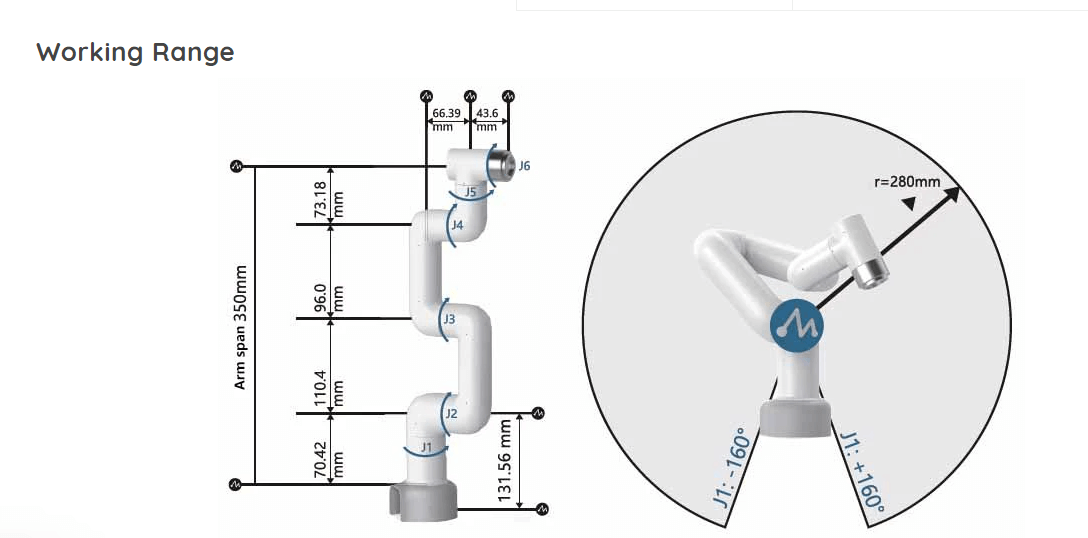 Guide for G-shape Base Installation (on the edge of the table):
1. Fix the base on the edge of a table with G-shape clips
2. Fix the bottom of the robot arm into the base using accessory Lego connectors.
3. Ready for use after making sure it's stable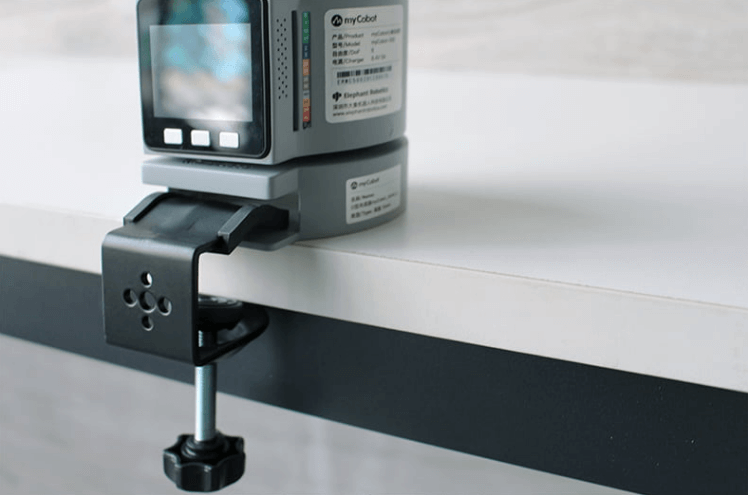 Features:
Runs independently without a PC
Supports multiple coding languages
Convenient to carry
Easy to disassemble and replace
Plug-and-play
Applications:
Scientific research and teaching
Smart home
Light industry
Specification:
Repeated Positioning Accuracy: ±0.5mm
Power Input: 8V-12V, 5A
Communication: Type-C
Working Radius: 280mm
DoF (Degree of Freedom): 6
Payload: 250g
SOC: Broadcom BCM2711
CPU: 1.5GHz 4-core
Bluetooth/Wireless: support
USB: USB3.0 × 2; USB2.0 × 2
HDMI Interface: micro HDMI × 2
IO Interface: 40
Operating independently
Programming Platform: Debian/Ubuntu
ROS/Python: embedded
Graphics Programming: embedded
Equipped Camera: compatible with a variety of cameras
Weight: 850g
Operating Temperature: -5 ~ 45°
Product Includes:
Six-axis Robotic Arm (Based on a Raspberry Pi) x1
G-shape Clip x1
Base x1
Power Supply Adapter x1
Type-C Cable x1
Screw Package x1
Allen Wrench x1
Jump Wires
Shipping rates Australia wide and New Zealand
Please add the items in cart and proceed to checkout to calculate shipping cost. We have range of shipping options once goods are ready to dispatch. 
1. Regular shipping: Goods will be shipped using Australia post regular shipping service. 
2. Express shipping: Goods will be shipped using Australia post EXPRESS shipping service. 
3. Express split shipping: Local stock from Melbourne will be shipped ASAP (1 business day) using EXPRESS shipment while remaining items from overseas stock when arrived in Melbourne shipped using second EXPRESS shipment. 
4. Pick up from Thomastown, Melbourne is available on appointment between 9 am to 3 pm during business days. 
FAQ:
How do I estimate shipping for my order?

Add products in the shopping cart and head to the 

checkout page

to estimate the shipping.
Dispatch time
Unless expressly agreed otherwise with you, we will not commence delivery of an order until we have received cleared payment of the purchase price in full.
All orders placed before 11 am AEST (Monday to Friday) will ordinarily be processed on the same day.
We will endeavour to ship the Products by the applicable time indicated on the website, but all times are indicative only.  All shipping times are dispatch times only, and actual delivery dates will depend on the shipping method chosen, delivery address and delivery service provider. 
Note- Please make a note during purchase if you require any item urgently. However we cannot guarantee that we will be able to comply with any request. 
*Go to Australia post delivery time calculation to get various Australia post service in your area please use our shipping postcode Thomastown, 3074 as the "from" address - https://auspost.com.au/parcels-mail/delivery-times.html?ilink=tools-open-deliv-times.
Shipping Destinations
We ship all products throughout mainland Australia, Tasmania and New Zealand - Including Darwin, Melbourne, Sydney, Tasmania, Adelaide, Brisbane, Perth, all metro and regional areas but do not deliver to areas in Australia where the Australia Post delivery network is not available. 
Check Express shipping delivery coverage area at - http://auspost.com.au/parcels-mail/delivery-areas.html
Receipt of deliveries
Deliveries to post office boxes are not permitted where delivery is by courier. If delivery is by courier and nobody is available at the delivery address to accept delivery when delivery is attempted then the courier may either:
leave the relevant parcel at the unattended address (the courier will do so if specified in your delivery requirements); or

re-attempt delivery at a later time or date, in which case we may charge you an additional re-delivery fee.

 
Note that if a delivery is left unattended at the shipping address and is subsequently stolen then the theft is your responsibility, not ours.
Payment & Security
Your payment information is processed securely. We do not store credit card details nor have access to your credit card information.