NOTE: This product compatible with Raspberry Pi 3 Model B+, Raspberry Pi 4 Model B, and Jetson Nano.
             Not compatible with Raspberry Pi 400, Raspberry Pi Pico and Raspberry Pi Compute Module 4.
This is a 2-DOF pan-tilt hat based on Raspberry Pi 40PIN GPIO. It can directly be used once plugged into the Pi board's GPIO. Meanwhile, the board makes the Raspberry Pi GPIO pins led out for your convenient use. With the I2C interface adopted, the module allows your Pi to control the camera movement and light intensity detection only using 2 signal lines. The on-board PCA9685 chip can output 12-bit resolution PWM to control the rotation of the pan-tilt. In addition, it comes with onboard TSL25911FN and built-in ADC that could make responses to light similar to human eyes, which is helpful for enhancing module performance; The on-board voltage level translators make it compatible with 3.3V/5V operating level. There is a specific acrylic board for fixing the Raspberry Pi camera on this product.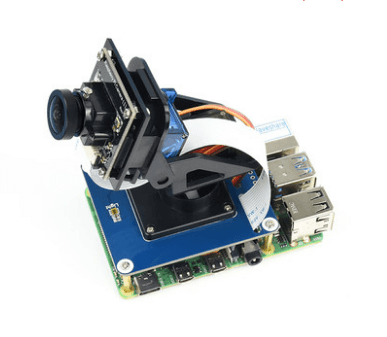 Through actual tests, it is proven that this module is compatible with all series types of Raspberry Pi and works well with the Jetson Nano board. It can do the 2-DOF motion in the horizontal and vertical directions, which is suitable for image monitoring/recognition and tracking when installed a camera. Besides, when combining an IR sensor or Ultrasonic distance sensor, it can be turned into a detection device to make a robot sense and avoid the surrounding obstacles. Of course, you can use it with other various sensors to complete your interactive works by Raspberry Pi or Jetson Nano.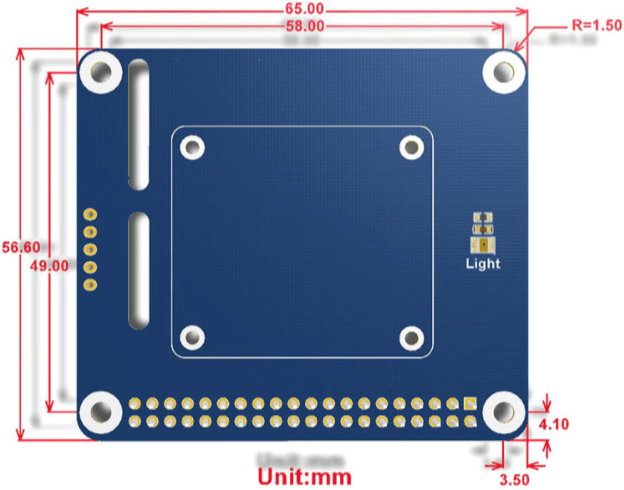 Note:
1.The Pan-Tilt HAT is unassembled, you need to get it done by yourself.
2.Raspberry Pi board and Camera are not included.
Assembly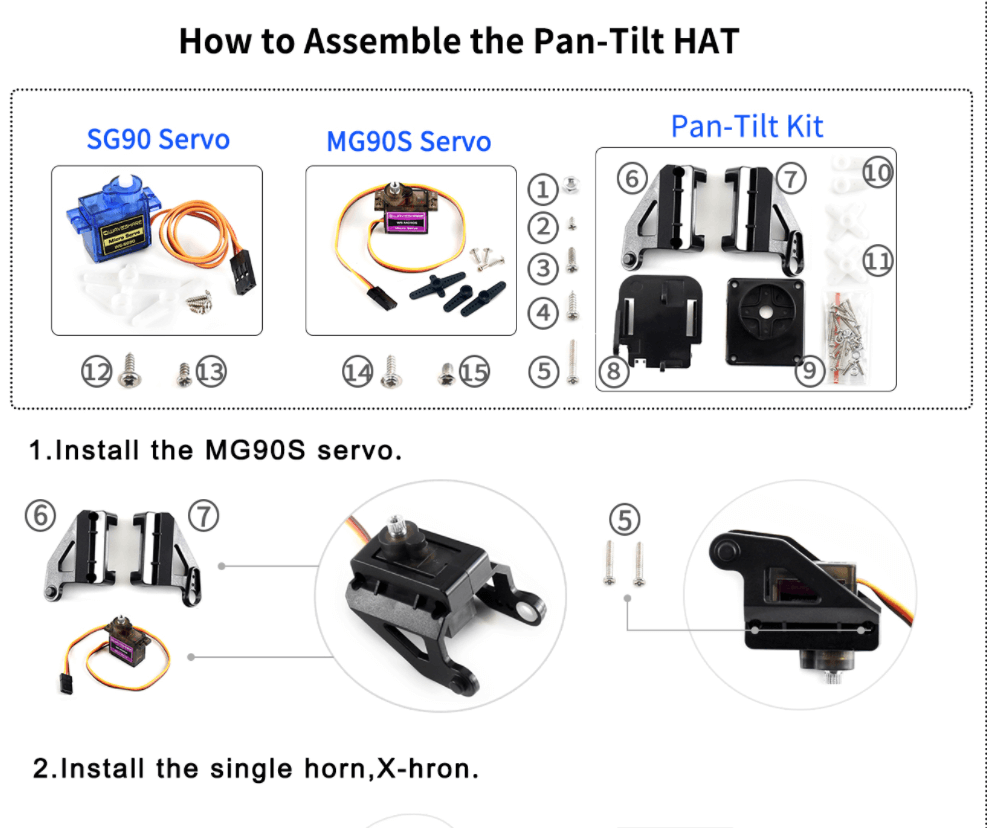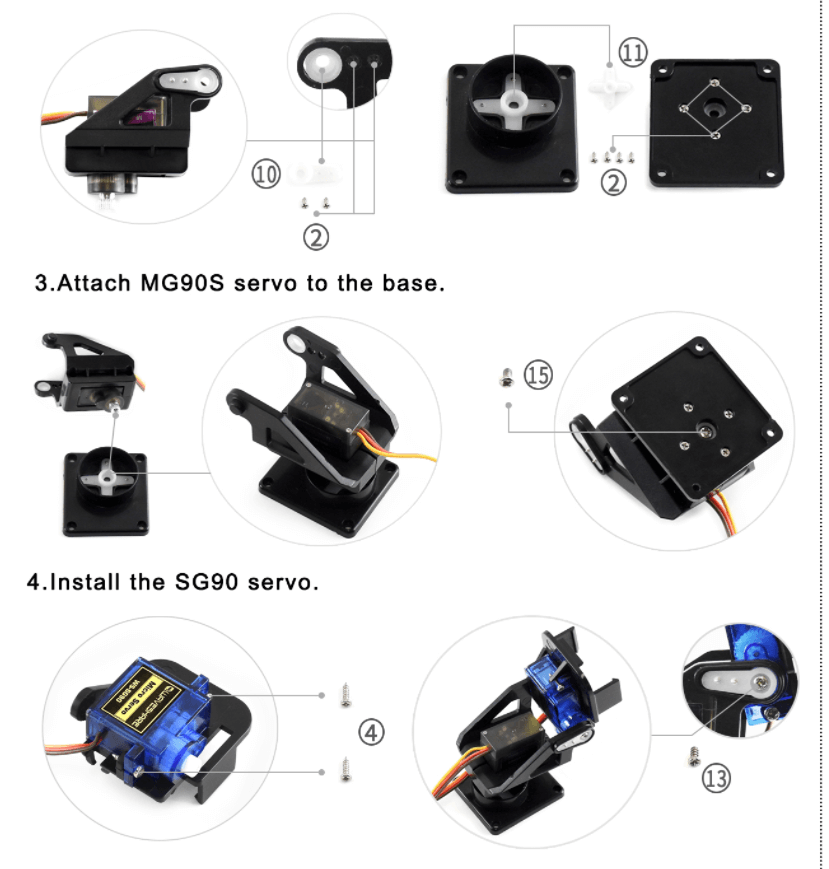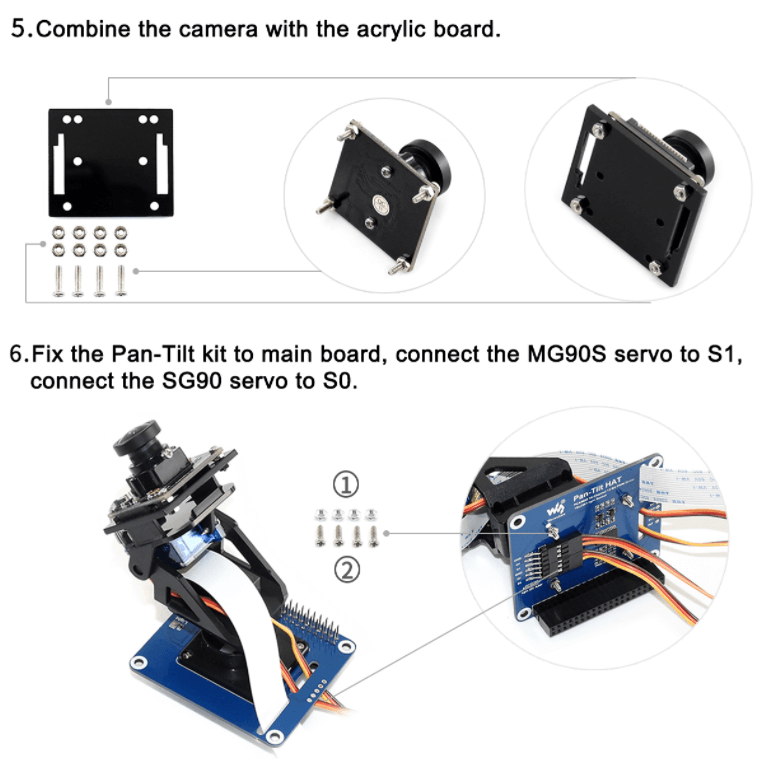 Specification:
Operating Voltage: 3.3V/5V
Control Chip: PCA9685
PWM Resolution: 12-bit
Ambient Light Sensor: TSL25911FN
Ambient Light Resolution: 12-bit
Logic Voltage3.3V 
Communication: I2C
Dimension: 56.6*65mm/2.23*2.56"
Documents:
Product Includes:
Pan-Tilt HAT For Raspberry Pi x1
Shipping rates Australia wide and New Zealand
Please add the items in cart and proceed to checkout to calculate shipping cost. We have range of shipping options once goods are ready to dispatch. 
1. Regular shipping: Goods will be shipped using Australia post regular shipping service. 
2. Express shipping: Goods will be shipped using Australia post EXPRESS shipping service. 
3. Express split shipping: Local stock from Melbourne will be shipped ASAP (1 business day) using EXPRESS shipment while remaining items from overseas stock when arrived in Melbourne shipped using second EXPRESS shipment. 
4. Pick up from Thomastown, Melbourne is available on appointment between 9 am to 3 pm during business days. 
FAQ:
How do I estimate shipping for my order?

Add products in the shopping cart and head to the 

checkout page

to estimate the shipping.
Dispatch time
Unless expressly agreed otherwise with you, we will not commence delivery of an order until we have received cleared payment of the purchase price in full.
All orders placed before 11 am AEST (Monday to Friday) will ordinarily be processed on the same day.
We will endeavour to ship the Products by the applicable time indicated on the website, but all times are indicative only.  All shipping times are dispatch times only, and actual delivery dates will depend on the shipping method chosen, delivery address and delivery service provider. 
Note- Please make a note during purchase if you require any item urgently. However we cannot guarantee that we will be able to comply with any request. 
*Go to Australia post delivery time calculation to get various Australia post service in your area please use our shipping postcode Thomastown, 3074 as the "from" address - https://auspost.com.au/parcels-mail/delivery-times.html?ilink=tools-open-deliv-times.
Shipping Destinations
We ship all products throughout mainland Australia, Tasmania and New Zealand - Including Darwin, Melbourne, Sydney, Tasmania, Adelaide, Brisbane, Perth, all metro and regional areas but do not deliver to areas in Australia where the Australia Post delivery network is not available. 
Check Express shipping delivery coverage area at - http://auspost.com.au/parcels-mail/delivery-areas.html
Receipt of deliveries
Deliveries to post office boxes are not permitted where delivery is by courier. If delivery is by courier and nobody is available at the delivery address to accept delivery when delivery is attempted then the courier may either:
leave the relevant parcel at the unattended address (the courier will do so if specified in your delivery requirements); or

re-attempt delivery at a later time or date, in which case we may charge you an additional re-delivery fee.

 
Note that if a delivery is left unattended at the shipping address and is subsequently stolen then the theft is your responsibility, not ours.
Payment & Security
Your payment information is processed securely. We do not store credit card details nor have access to your credit card information.