Open the intelligence era, starting with visual recognition! Here comes an image recognition sensor with built-in deep learning engine. Small in size, the sensor adopts 30W wide-angle lens and various vision algorithms, which could make your robots more intelligent and independent. With this MU vision
sensor
, you can build up a smart robot that can trigger suitable behaviors to deal with random events in environment.
Use this MU vision sensor to recognize and locate a variety of objects, such as colors, balls, humans and cards. The detected result can be output through UART and IIC. It can process information locally without a network connection. In addition, the parameter configuration and firmware update of the module can be directly realized via the on-board USB serial port. The sensor supports UART, IIC, and WIFI communication modes. What's more, it is suitable for
Arduino,
Mixly and
micro:bit
embedded platforms, so you are always welcomed to explore the powerful capability of this sensor regardless of the development platforms.
This small MU vision sensor can help you to complete intelligent applications, for instance, smart printing and scanning car robot, basketball shooting robot, and so on. Moreover, it can be widely used in smart toys, AI teaching tool, maker products, etc.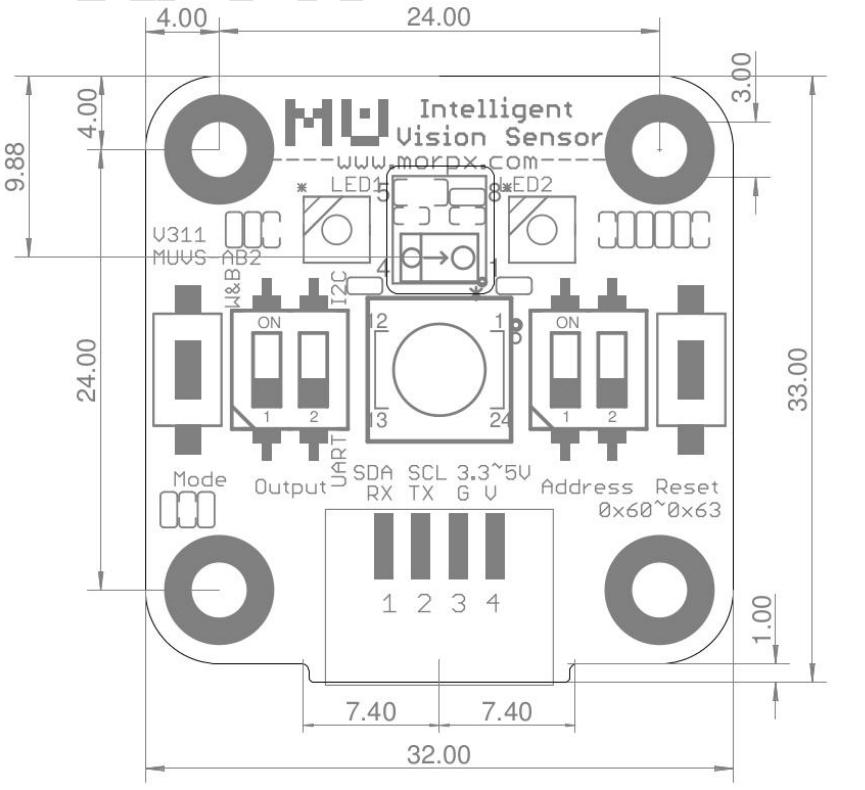 Project: How To Make DIY Arduino Traffic Sign Recognition Robot
Other Parts: Tracked Robot Chassis, Arduino Uno, Motor Driver Shield, 18650 Li-ion Battery - (From PowerBank )
Specification:
Processor: dual-core, 240MHz
Camera: Omnivision ov7725
Camera Resolution: 640x480
Field of View: 90° (Diagonal line)
2 LED lights
Dimension: 3.2*3.2*1.2cm/1.26*1.26*0.47"
Data Output: UART/IIC
Power Supply: 5V
Detected Objects: people silhouette (above the waist)
                                            Ball (Ping-pong ball or tennis ball)                      
                                            20 Customized Cards                    
                                           Color (Within the detection range, output the color of the designated position or output the position of the                                                         designated color) 
Software Library: milxy's library functions and reference programs
                                           Arduino library functions                      
                                           Micro:bit library functions
Functions In Development: WiFi Image Transmission (module as AP)
                                           Motion Routine Detection(detection of hand movement from top to bottom, left to right, etc,. non-gesture                                                                                             sensing)
                                           Face recognition                                
                                           QR code recognition

Documents:
Product Includes:
Shipping rates Australia wide
Australia wide
Express Post*
Regular Post
Courier
Up to 500 gms
$9.79
$6.75
$15.99
Up to 3 kg
$15.00
$11.40
$15.99
Up to 5 kg
$30.00
$22.11
NA
Above 5 kg

Estimated at checkout
Shipping rates to New Zealand
| | |
| --- | --- |
| | New Zealand |
| | Australia Post international service |
| Up to 500 gms | $18.00 |
| Up to 1 kg | $30.00 |
| Above 1 kg | Available on request |
FAQ:
How do I estimate shipping for my order?

Add products in the shopping cart and head to the 

checkout page

to estimate the shipping.
Dispatch time
Unless expressly agreed otherwise with you, we will not commence delivery of an order until we have received cleared payment of the purchase price in full.
All orders placed before 11 am AEST (Monday to Friday) will ordinarily be processed on the same day.
We will endeavour to ship the Products by the applicable time indicated on the website, but all times are indicative only.  All shipping times are dispatch times only, and actual delivery dates will depend on the shipping method chosen, delivery address and delivery service provider. 
Note- Please make a note during purchase if you require any item urgently. However we cannot guarantee that we will be able to comply with any request. 
*Go to Australia post delivery time calculation to get various Australia post service in your area please use our shipping postcode Rosanna, 3074 as the "from" address - https://auspost.com.au/parcels-mail/delivery-times.html?ilink=tools-open-deliv-times.
Shipping Destinations
We ship all products throughout mainland Australia, Tasmania and New Zealand - Including Darwin, Melbourne, Sydney, Tasmania, Adelaide, Brisbane, Perth, all metro and regional areas but do not deliver to areas in Australia where the Australia Post delivery network is not available. 
Check Express shipping delivery coverage area at - http://auspost.com.au/parcels-mail/delivery-areas.html
Receipt of deliveries
Deliveries to post office boxes are not permitted where delivery is by courier. If delivery is by courier and nobody is available at the delivery address to accept delivery when delivery is attempted then the courier may either:
leave the relevant parcel at the unattended address (the courier will do so if specified in your delivery requirements); or

re-attempt delivery at a later time or date, in which case we may charge you an additional re-delivery fee.

 
Note that if a delivery is left unattended at the shipping address and is subsequently stolen then the theft is your responsibility, not ours.