In most Arduino projects, relays are the first choice to drive some large current device. It requires a certain amount of current to drive the internal coil to pick-up contact. But for some MCU, like Intel Edison, Intel joule, lilypad, Raspberry Pi and other microcontroller with limited amount of current GPIO, it's hard to drive one or more relays simultaneously.
The MOSFET power controller is a module which can drive a large current device with limited current GPIO. It works as a MOSFET relay or MOSFET driver. When you give it a digital high-level signal (3.3~10V), MOSFET turns on, vice versa.
Compare to the relay module, MOSFET power controller is compatible with
Arduino
,
Raspberry Pi
,
Lattepanda
and other Microcontroller, supports 3.3~10V logic power control. The VIN port supports 5~36V; 0~20A power input, if the current is over 10A, we recommend an external heat sink. And MOSFET supports quick ON-OFF switch, the switching frequency arrives 1KHz. That is a good point for robot control.
The MOSFET power controller comes with a standard PH2.0-3P gravity interface. It makes the module compatible with the
Arduino IO expansion shield
. Plug and play, easy to use.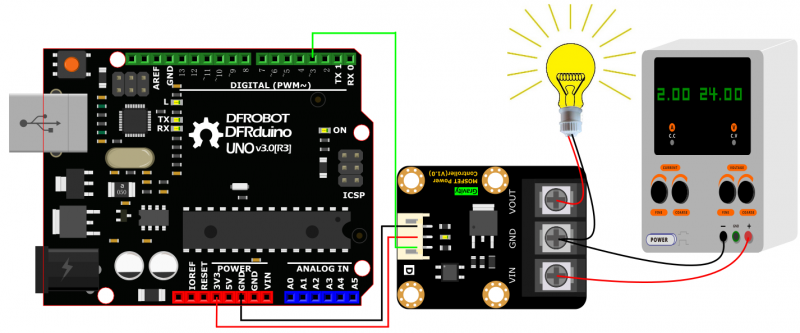 Note: it works with direct current (DC) only!
Specification:
VIN Operating Voltage: 5V-36V DC
VIN Operating Current: 0A-20A (Suggest external heat sink when the current over 10A )
Logic Operating Voltage: 3.3~10V DC
Logic Control Signal: 3.3~10V DC
Switching Frequency: 0-1KHz
Switching Character: T(on)=20us/T(off)=50us
Operating Temperature: -55℃-155℃
Interface Type: PH2.0-3P
Dimension: 44*32 mm/ 1.73*1.26 inches
Documents:
More Documents
Product Includes:
Gravity: MOSFET Power Controllerx1
Gravity Digital Sensor Cablex1


Shipping rates Australia wide and New Zealand
Please add the items in cart and proceed to checkout to calculate shipping cost. We have range of shipping options once goods are ready to dispatch. 
1. Regular shipping: Goods will be shipped using Australia post regular shipping service. 
2. Express shipping: Goods will be shipped using Australia post EXPRESS shipping service. 
3. Express split shipping: Local stock from Melbourne will be shipped ASAP (1 business day) using EXPRESS shipment while remaining items from overseas stock when arrived in Melbourne shipped using second EXPRESS shipment. 
4. Pick up from Thomastown, Melbourne is available on appointment between 9 am to 3 pm during business days. 
FAQ:
How do I estimate shipping for my order?

Add products in the shopping cart and head to the 

checkout page

to estimate the shipping.
Dispatch time
Unless expressly agreed otherwise with you, we will not commence delivery of an order until we have received cleared payment of the purchase price in full.
All orders placed before 11 am AEST (Monday to Friday) will ordinarily be processed on the same day.
We will endeavour to ship the Products by the applicable time indicated on the website, but all times are indicative only.  All shipping times are dispatch times only, and actual delivery dates will depend on the shipping method chosen, delivery address and delivery service provider. 
Note- Please make a note during purchase if you require any item urgently. However we cannot guarantee that we will be able to comply with any request. 
*Go to Australia post delivery time calculation to get various Australia post service in your area please use our shipping postcode Thomastown, 3074 as the "from" address - https://auspost.com.au/parcels-mail/delivery-times.html?ilink=tools-open-deliv-times.
Shipping Destinations
We ship all products throughout mainland Australia, Tasmania and New Zealand - Including Darwin, Melbourne, Sydney, Tasmania, Adelaide, Brisbane, Perth, all metro and regional areas but do not deliver to areas in Australia where the Australia Post delivery network is not available. 
Check Express shipping delivery coverage area at - http://auspost.com.au/parcels-mail/delivery-areas.html
Receipt of deliveries
Deliveries to post office boxes are not permitted where delivery is by courier. If delivery is by courier and nobody is available at the delivery address to accept delivery when delivery is attempted then the courier may either:
leave the relevant parcel at the unattended address (the courier will do so if specified in your delivery requirements); or

re-attempt delivery at a later time or date, in which case we may charge you an additional re-delivery fee.

 
Note that if a delivery is left unattended at the shipping address and is subsequently stolen then the theft is your responsibility, not ours.
Payment & Security
Your payment information is processed securely. We do not store credit card details nor have access to your credit card information.