We can divide temperature measurement in to two types: contact and non-contact. Contact measurement can only accurately measure temperature when the testing object and the sensor reach thermal equilibrium. This can mean longer response times and reading inaccuracies offset by ambient temperature. By contrast, non-contact measurement uses infra-red radiation to measure the temperature and does not require a direct touch. Additionally, this method of measurement can be read quickly and accurately.
In recent years non-contact measurement methods have been used for medical, environmental monitoring, home automation, automotive electronic, aerospace and military applications.
Our latest infrared temperature measurement module is the MLX90614. This module measures the surface temperature by detecting infrared radiation energy and wavelength distribution. The IR temperature probe consists of an optical system, photoelectric detector, amplifier, signal processing and output module. The optical system collects the infrared radiation in its field of view and the infrared radiation energy is converted in to corresponding electrical signals when converging on the photoelectric detector. After being processed by the amplifier and signal processing circuit, the signal is converted in to a temperature value. The MLX90614 is self calibrating and has a low noise amplifier integrated in to the signal processing chip. The chip itself is a 17-bit ADC and DSP device, giving accurate and reliable results.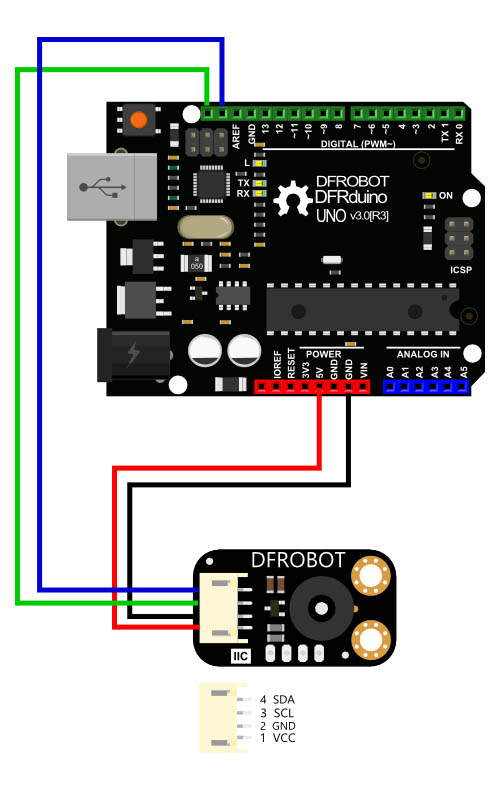 SEN0263 (MLX90614-DCI), due to its small field of view (FOV = 5°), is more suitable for industrial applications where the detection distance can be longer. In general applications, you can use
SEN0206(MLX90614-BCC)
Specification:
Model: MLX90614-DCI
Operating Voltage: 3.3V - 5V
Operating Current: 1.2mA
Temperature: -70.01℃ to +270℃, (0.01 ℃ resolution)
Interface Type: I2C
Interface Line Sequence: VCC, GND, SCL, SDA
FOV: 5°
Dimensions: 31.5*18 mm/1.24 x 0.7 inches
Weight: 15g
Documents:
Product Includes:
Gravity: I2C Non-contact IR Temperature Sensorx1
JST PH2.0 4-Pin cablex1
Shipping rates Australia wide and New Zealand
Please add the items in cart and proceed to checkout to calculate shipping cost. We have range of shipping options once goods are ready to dispatch. 
1. Regular shipping: Goods will be shipped using Australia post regular shipping service. 
2. Express shipping: Goods will be shipped using Australia post EXPRESS shipping service. 
3. Express split shipping: Local stock from Melbourne will be shipped ASAP (1 business day) using EXPRESS shipment while remaining items from overseas stock when arrived in Melbourne shipped using second EXPRESS shipment. 
4. Pick up from Thomastown, Melbourne is available on appointment between 9 am to 3 pm during business days. 
FAQ:
How do I estimate shipping for my order?

Add products in the shopping cart and head to the 

checkout page

to estimate the shipping.
Dispatch time
Unless expressly agreed otherwise with you, we will not commence delivery of an order until we have received cleared payment of the purchase price in full.
All orders placed before 11 am AEST (Monday to Friday) will ordinarily be processed on the same day.
We will endeavour to ship the Products by the applicable time indicated on the website, but all times are indicative only.  All shipping times are dispatch times only, and actual delivery dates will depend on the shipping method chosen, delivery address and delivery service provider. 
Note- Please make a note during purchase if you require any item urgently. However we cannot guarantee that we will be able to comply with any request. 
*Go to Australia post delivery time calculation to get various Australia post service in your area please use our shipping postcode Thomastown, 3074 as the "from" address - https://auspost.com.au/parcels-mail/delivery-times.html?ilink=tools-open-deliv-times.
Shipping Destinations
We ship all products throughout mainland Australia, Tasmania and New Zealand - Including Darwin, Melbourne, Sydney, Tasmania, Adelaide, Brisbane, Perth, all metro and regional areas but do not deliver to areas in Australia where the Australia Post delivery network is not available. 
Check Express shipping delivery coverage area at - http://auspost.com.au/parcels-mail/delivery-areas.html
Receipt of deliveries
Deliveries to post office boxes are not permitted where delivery is by courier. If delivery is by courier and nobody is available at the delivery address to accept delivery when delivery is attempted then the courier may either:
leave the relevant parcel at the unattended address (the courier will do so if specified in your delivery requirements); or

re-attempt delivery at a later time or date, in which case we may charge you an additional re-delivery fee.

 
Note that if a delivery is left unattended at the shipping address and is subsequently stolen then the theft is your responsibility, not ours.
Payment & Security
Your payment information is processed securely. We do not store credit card details nor have access to your credit card information.