DFRobot Gravity: Analog pH meter V2 is specifically designed to measure the pH of the solution and reflect the acidity or alkalinity. It is commonly used in various applications such as aquaponics, aquaculture, and environmental water testing.
As an upgraded version of
pH meter V1
, this product greatly improves the precision and user experience. The onboard voltage regulator chip supports the wide voltage supply of 3.3~5.5V, which is compatible with 5V and 3.3V main control board. The output signal filtered by hardware has low jitter. The software library adopts the two-point calibration method, and can automatically identify two standard buffer solutions (4.0 and 7.0), so simple and convenient.
With this product, main control board (such as Arduino) and the software library, you can quickly build the pH meter, plug and play, no welding. DFRobot provides a variety of
water quality sensor products
, uniform size and interface, not only meet the needs of various water quality testing, but also suitable for the DIY of multi-parameter water quality tester.
The pH is a value that measures the acidity or alkalinity of the solution. It is also called the hydrogen ion concentration index. The pH is a scale of hydrogen ion activity in solution. The pH has a wide range of uses in medicine, chemistry, and agriculture. Usually, the pH is a number between 0 to 14. Under the thermodynamic standard conditions, pH=7, which means the solution is neutral; pH<7, which means the solution is acidic; pH>7, which means the solution is alkaline.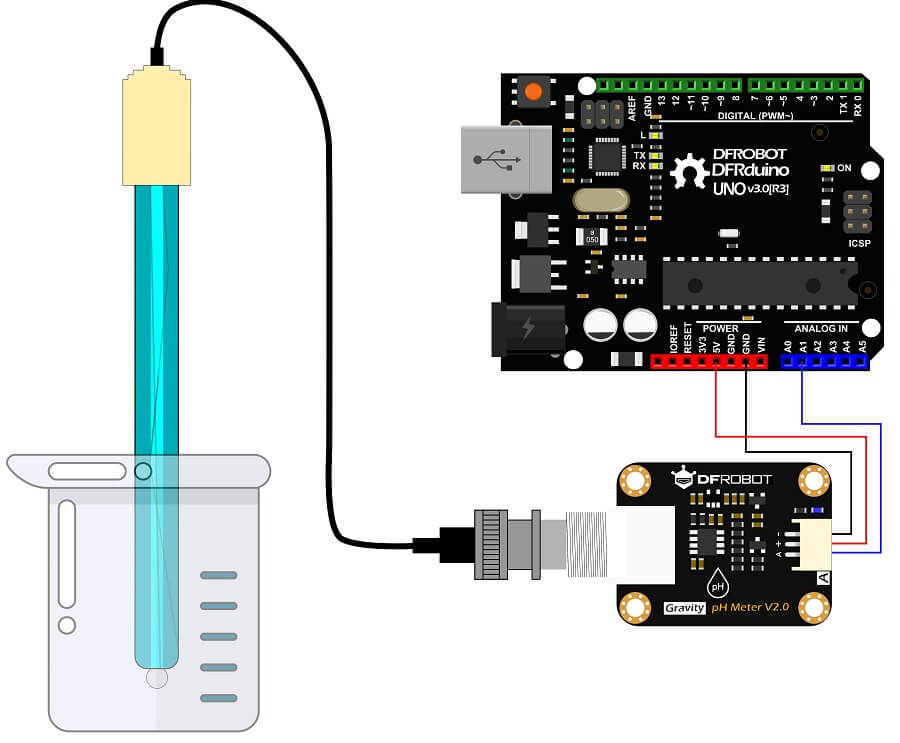 Attention:
1. The BNC connector and the signal conversion board must be kept dry and clean, otherwise, it will affect the input impedance, resulting in an inaccurate measurement. If it is damp, it needs to be dried.
2. The signal conversion board cannot be directly placed on a wet or semiconductor surface, otherwise, it will affect the input impedance, resulting in the inaccurate measurement. It is recommended to use the nylon pillar to fix the signal conversion board, allow a certain distance between the signal conversion board and the surface.
3. The sensitive glass bubble in the head of the pH probe should avoid touching with the hard material. Any damage or scratches will cause the electrode to fail.
4. After completing the measurement, disconnect the pH probe from the signal conversion board. The pH probe should not be connected to the signal conversion board without the power supply for a long time.
Features:
3.3~5.5V wide voltage input
Hardware filtered output signal, low jitter
Gravity connector and BNC connector, plug and play, no welding
Software library supports two-point calibration, and automatically identifies standard buffer solution
Uniform size and connector, convenient for the design of mechanical structures
Specification:
Signal Conversion Board (Transmitter) V2
Supply Voltage: 3.3~5.5V
Output Voltage: 0~3.0V
Probe Connector: BNC
Signal Connector: PH2.0-3P
Measurement Accuracy: ±0.1@25℃
Dimension: 42mm*32mm/1.66*1.26in
pH Probe
Probe Type: Laboratory Grade
Detection Range: 0~14
Temperature Range: 5~60°C
Zero Point: 7±0.5
Response Time: <2min
Internal Resistance: <250MΩ
Probe Life: >0.5 year (depending on frequency of use)
Cable Length: 100cm
Documents:
Product Includes:
pH Probe(Laboratory Grade)  x1
pH Signal Conversion Board     x1
Gravity Analog Sensor Cable    x1
pH Standard Buffer Solution 4.0  x2
pH Standard Buffer Solution 7.0  x2
Waterproof Gasket     x2
Screw Cap for BNC Connector  x1
M3 * 10 nylon pillar  x4
M3 * 5 screw  x8
Shipping rates Australia wide
Australia wide
Express Post*
Regular Post
Courier
Up to 500 gms
$9.79
$6.75
$15.99
Up to 3 kg
$15.00
$11.40
$15.99
Up to 5 kg
$30.00
$22.11
NA
Above 5 kg

Estimated at checkout
Shipping rates to New Zealand
| | |
| --- | --- |
| | New Zealand |
| | Australia Post international service |
| Up to 500 gms | $18.00 |
| Up to 1 kg | $30.00 |
| Above 1 kg | Available on request |
FAQ:
How do I estimate shipping for my order?

Add products in the shopping cart and head to the 

checkout page

to estimate the shipping.
Dispatch time
Unless expressly agreed otherwise with you, we will not commence delivery of an order until we have received cleared payment of the purchase price in full.
All orders placed before 11 am AEST (Monday to Friday) will ordinarily be processed on the same day.
We will endeavour to ship the Products by the applicable time indicated on the website, but all times are indicative only.  All shipping times are dispatch times only, and actual delivery dates will depend on the shipping method chosen, delivery address and delivery service provider. 
Note- Please make a note during purchase if you require any item urgently. However we cannot guarantee that we will be able to comply with any request. 
*Go to Australia post delivery time calculation to get various Australia post service in your area please use our shipping postcode Rosanna, 3074 as the "from" address - https://auspost.com.au/parcels-mail/delivery-times.html?ilink=tools-open-deliv-times.
Shipping Destinations
We ship all products throughout mainland Australia, Tasmania and New Zealand - Including Darwin, Melbourne, Sydney, Tasmania, Adelaide, Brisbane, Perth, all metro and regional areas but do not deliver to areas in Australia where the Australia Post delivery network is not available. 
Check Express shipping delivery coverage area at - http://auspost.com.au/parcels-mail/delivery-areas.html
Receipt of deliveries
Deliveries to post office boxes are not permitted where delivery is by courier. If delivery is by courier and nobody is available at the delivery address to accept delivery when delivery is attempted then the courier may either:
leave the relevant parcel at the unattended address (the courier will do so if specified in your delivery requirements); or

re-attempt delivery at a later time or date, in which case we may charge you an additional re-delivery fee.

 
Note that if a delivery is left unattended at the shipping address and is subsequently stolen then the theft is your responsibility, not ours.