ESP32-S3-WROOM-1 is a powerful, generic Wi-Fi+ Bluetooth LE MCU module built around the ESP32-S3 series of SoCs. On top of a rich set of peripherals, the acceleration for neural network computing and signal processing workloads provided by the SoC makes the module an ideal choice for a wide variety of application scenarios related to Artificial Intelligence of Things (AIoT), such as wake word detection, speech commands recognition, face detection, and recognition, smart home, smart appliances, smart control panel, smart speaker, etc.
ESP32-S3 integrates multiple peripherals including SPI, LCD, Camera interface, UART, I2C, I2S, IR remote control, pulse counter, LED PWM, USB Serial/JTAG controller, MCPWM, SDIO host, GDMA, TWAI® controller (compatible with ISO 11898-1), ADC, touch sensor, temperature sensor, timers, and watchdogs, as well as up to 36 GPIOs. And it also includes a full-speed USB 1.1 On-The-Go (OTG) interface to enable USB communication.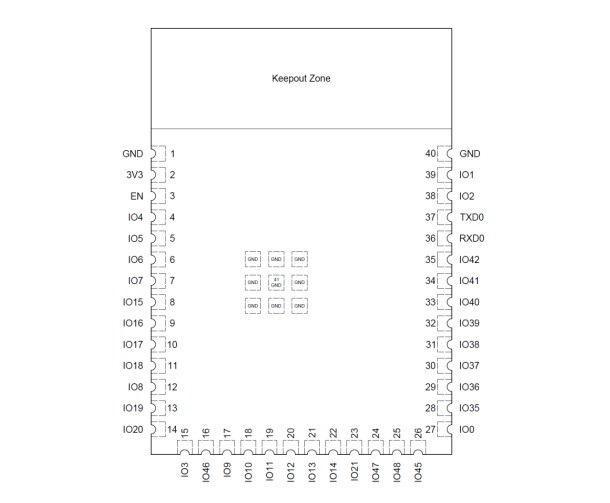 Pinout

Pin Definitions
Name
NO.
Typea
Function
GND
1
P
GND
3V3
2
P
Power supply
EN
3
I
High level: on, enables the chip
Low level: off, the chip powers off
Note: Do not leave the EN pin floating
IO4
4
I/O/T
RTC_GPIO4, 

GPIO4

, TOUCH4, ADC1_CH3

IO5
5
I/O/T
RTC_GPIO5, 

GPIO5

, TOUCH5, ADC1_CH4

IO6
6
I/O/T
RTC_GPIO6, 

GPIO6

, TOUCH6, ADC1_CH5

IO7
7
I/O/T
RTC_GPIO7, 

GPIO7

, TOUCH7, ADC1_CH6

IO15
8
I/O/T
RTC_GPIO15, 

GPIO15

, U0RTS, ADC2_CH4, XTAL_32K_P

IO16
9
I/O/T
RTC_GPIO16, 

GPIO16

, U0CTS, ADC2_CH5, XTAL_32K_N

IO17
10
I/O/T
RTC_GPIO17, 

GPIO17

, U1TXD, ADC2_CH6

IO18
11
I/O/T
RTC_GPIO18, 

GPIO18

, U1RXD, ADC2_CH7, CLK_OUT3

IO8
12
I/O/T
RTC_GPIO8, 

GPIO8

, TOUCH8, ADC1_CH7, SUBSPICS1

IO19
13
I/O/T
RTC_GPIO19, GPIO19, U1RTS, ADC2_CH8, CLK_OUT2, 

USB_D-

IO20
14
I/O/T
RTC_GPIO20, GPIO20, U1CTS, ADC2_CH9, CLK_OUT1, 

USB_D+

IO3
15
I/O/T
RTC_GPIO3, 

GPIO3

, TOUCH3, ADC1_CH2

IO46
16
I/O/T
GPIO46
IO9
17
I/O/T
RTC_GPIO9, 

GPIO9

, TOUCH9, ADC1_CH8, FSPIHD, SUBSPIHD

IO10
18
I/O/T
RTC_GPIO10, 

GPIO10

, TOUCH10, ADC1_CH9, FSPICS0, FSPIIO4, SUBSPICS0

IO11
19
I/O/T
RTC_GPIO11, 

GPIO11

, TOUCH11, ADC2_CH0, FSPID, FSPIIO5, SUBSPID

IO12
20
I/O/T
RTC_GPIO12, 

GPIO12

, TOUCH12, ADC2_CH1, FSPICLK, FSPIIO6, SUBSPICLK

IO13
21
I/O/T
RTC_GPIO13, 

GPIO13

, TOUCH13, ADC2_CH2, FSPIQ, FSPIIO7, SUBSPIQ

IO14
22
I/O/T
RTC_GPIO14, 

GPIO14

, TOUCH14, ADC2_CH3, FSPIWP, FSPIDQS, SUBSPIWP

IO21
23
I/O/T
RTC_GPIO21, 

GPIO21

IO47
24
I/O/T
SPICLK_P_DIFF, 

GPIO47

, SUBSPICLK_P_DIFF

IO48
25
I/O/T
SPICLK_N_DIFF, 

GPIO48

, SUBSPICLK_N_DIFF

IO45
26
I/O/T
GPIO45
IO0
27
I/O/T
RTC_GPIO0, 

GPIO0

IO35

b

28
I/O/T
SPIIO6, 

GPIO35

, FSPID, SUBSPID

IO36

b

29
I/O/T
SPIIO7, 

GPIO36

, FSPICLK, SUBSPICLK

IO37

b

30
I/O/T
SPIDQS, 

GPIO37

, FSPIQ, SUBSPIQ

IO38
31
I/O/T
GPIO38

, FSPIWP, SUBSPIWP

IO39
32
I/O/T
MTCK

, GPIO39, CLK_OUT3, SUBSPICS1

IO40
33
I/O/T
MTDO

, GPIO40, CLK_OUT2

IO41
34
I/O/T
MTDI

, GPIO41, CLK_OUT1

IO42
35
I/O/T
MTMS

, GPIO42

RXD0
36
I/O/T
U0RXD

, GPIO44, CLK_OUT2

TXD0
37
I/O/T
U0TXD

, GPIO43, CLK_OUT1

IO2
38
I/O/T
RTC_GPIO2, 

GPIO2

, TOUCH2, ADC1_CH1

IO1
39
I/O/T
RTC_GPIO1, 

GPIO1

, TOUCH1, ADC1_CH0

GND
40
P
GND
EPAD
41
P
GND
P: power supply; I: input; O: output; T: can be set to high impedance. Pin functions in bold font are the default ones. The default functions of pins 28 ~ 30 are determined by the eFuse bit.
In modules that have embedded OSPI PSRAM (i.e., that embed ESP32-S3R8), pins IO35, IO36, and IO37 are used to connect to the OSPI PSRAM and not available for other uses.
Features:
Powerful and generic Wi-Fi and Bluetooth
Integrates multiple peripherals
Applications:
Wake word detection
Speech commands recognition
Face detection and recognition
Smart home
Smart appliances
Smart control panel
Smart speaker
Specification:
ESP32-S3 series of SoCs embedded, Xtensa® dual-core 32-bit LX7 microprocessor (support single-precision floating-point units), support the clock frequency of up to 240MHz
384 KB ROM
512 KB SRAM
16 KB RTC SRAM
4 MB SPI flash
Bluetooth LE: Bluetooth 5, Bluetooth mesh
40MHz crystal oscillator
Module Dimension: 18x25.5x3.1(mm)/0.71x1.00x0.12(inches)
Operating Temperature: –40~85
Documents:
Product Includes:
ESP32-S3-WROOM-1-N4 Module (PCB Antenna) x1
Shipping rates Australia wide and New Zealand
Please add the items in cart and proceed to checkout to calculate shipping cost. We have range of shipping options once goods are ready to dispatch. 
1. Regular shipping: Goods will be shipped using Australia post regular shipping service. 
2. Express shipping: Goods will be shipped using Australia post EXPRESS shipping service. 
3. Express split shipping: Local stock from Melbourne will be shipped ASAP (1 business day) using EXPRESS shipment while remaining items from overseas stock when arrived in Melbourne shipped using second EXPRESS shipment. 
4. Pick up from Thomastown, Melbourne is available on appointment between 9 am to 3 pm during business days. 
FAQ:
How do I estimate shipping for my order?

Add products in the shopping cart and head to the 

checkout page

to estimate the shipping.
Dispatch time
Unless expressly agreed otherwise with you, we will not commence delivery of an order until we have received cleared payment of the purchase price in full.
All orders placed before 11 am AEST (Monday to Friday) will ordinarily be processed on the same day.
We will endeavour to ship the Products by the applicable time indicated on the website, but all times are indicative only.  All shipping times are dispatch times only, and actual delivery dates will depend on the shipping method chosen, delivery address and delivery service provider. 
Note- Please make a note during purchase if you require any item urgently. However we cannot guarantee that we will be able to comply with any request. 
*Go to Australia post delivery time calculation to get various Australia post service in your area please use our shipping postcode Thomastown, 3074 as the "from" address - https://auspost.com.au/parcels-mail/delivery-times.html?ilink=tools-open-deliv-times.
Shipping Destinations
We ship all products throughout mainland Australia, Tasmania and New Zealand - Including Darwin, Melbourne, Sydney, Tasmania, Adelaide, Brisbane, Perth, all metro and regional areas but do not deliver to areas in Australia where the Australia Post delivery network is not available. 
Check Express shipping delivery coverage area at - http://auspost.com.au/parcels-mail/delivery-areas.html
Receipt of deliveries
Deliveries to post office boxes are not permitted where delivery is by courier. If delivery is by courier and nobody is available at the delivery address to accept delivery when delivery is attempted then the courier may either:
leave the relevant parcel at the unattended address (the courier will do so if specified in your delivery requirements); or

re-attempt delivery at a later time or date, in which case we may charge you an additional re-delivery fee.

 
Note that if a delivery is left unattended at the shipping address and is subsequently stolen then the theft is your responsibility, not ours.
Payment & Security
Your payment information is processed securely. We do not store credit card details nor have access to your credit card information.