The ESP32-S2-Kaluga-1 is a development kit mainly designed for human-computer interaction applications. It includes one main-board and four extension boards that support: touch panel control, audio playback, LCD display and camera image acquisition, which allows users to interact with machine through sensory channels and body language.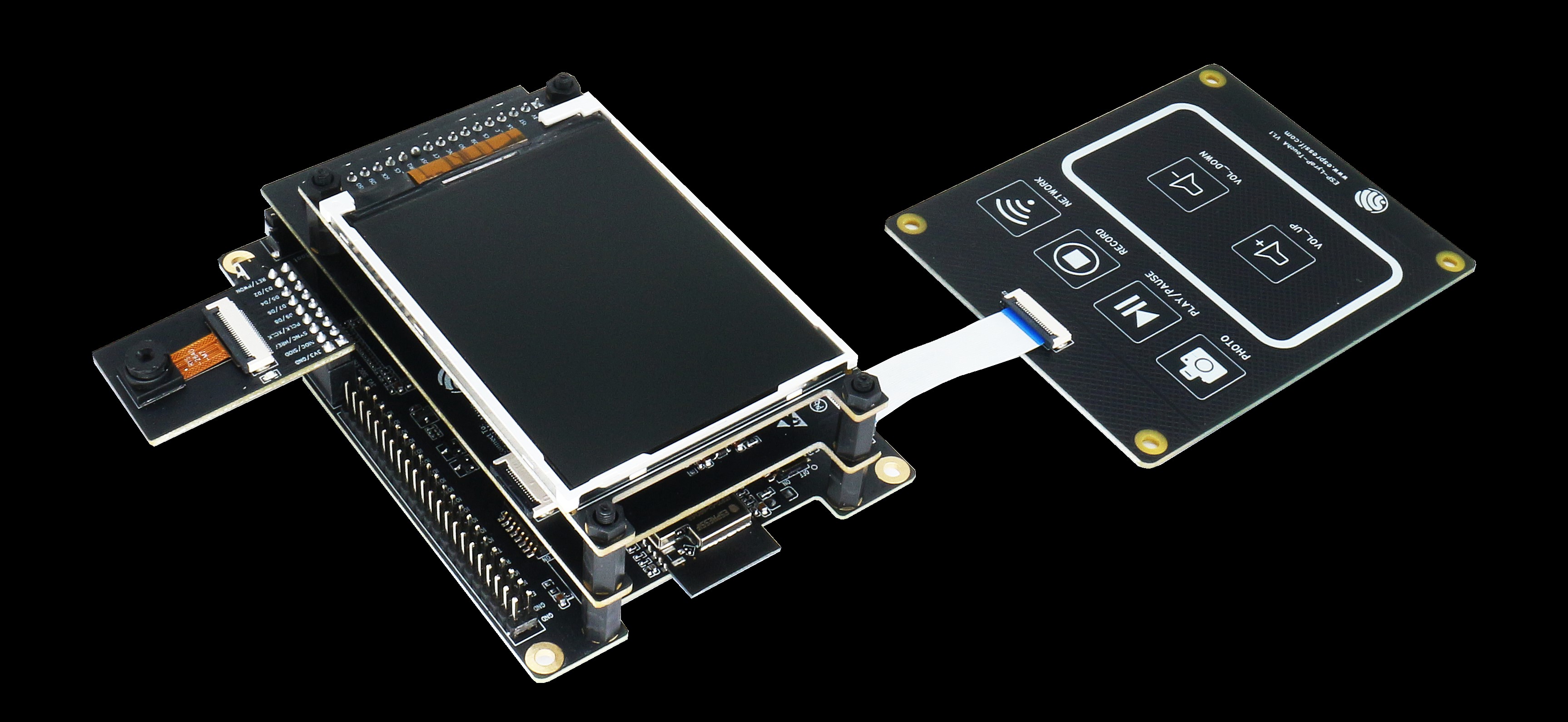 Touch Panel Control
14 touch sensors, three of which support distance detection(proximity mode)
Support acrylic panels up to 5mm
Wet hand operation
Mis-touch prevention; water rejection: ESP32-S2 can be configured to disable all touchpads automatically if multiple pads are simultaneously covered with water and to re-enable touchpads if the water is removed.
Audio Playback
Connect speakers to play audio
Use together with the Touch panel to control audio playback and adjust volume
LCD Display
LCD interface(8-bit parallel RGB, 8080, and 6800 interface)
Support display with ST7789 and ILI9341 driver
Support camera data real-time display on LCD screen
Camera Image Acquisition
Support OV2640 and OV3660 camera modules
8/16-bits DVP image sensor interface
Clock frequency up to 40MHz
Optimized DMA transmission bandwidth for easier transmission of high-resolution images
Description of Components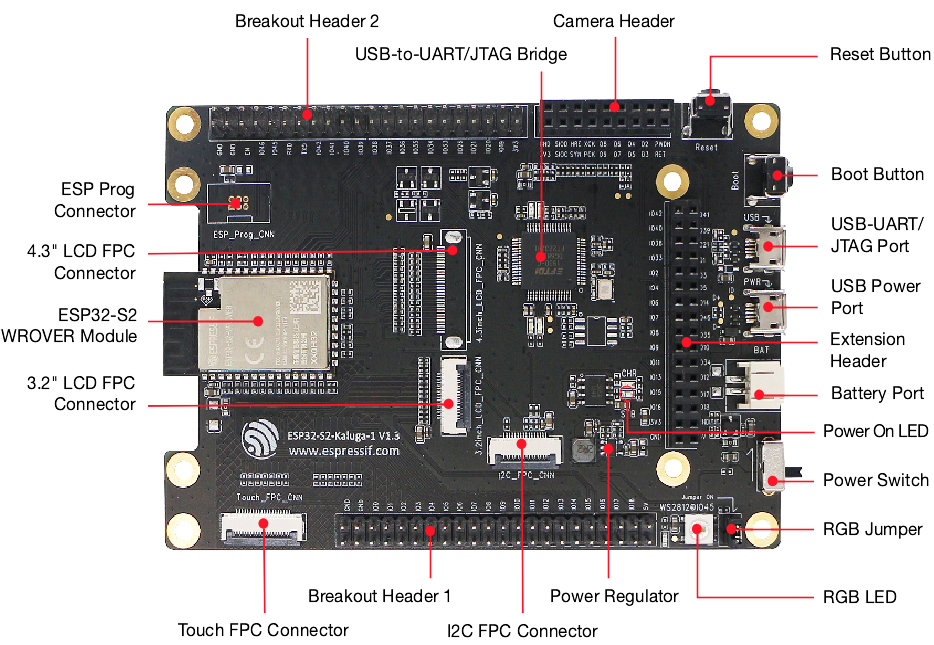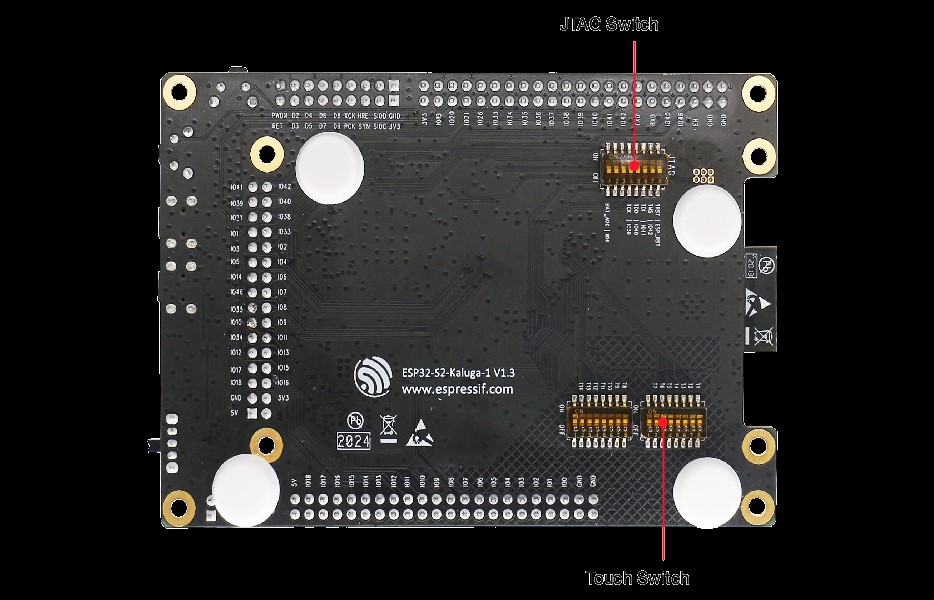 | Key Component | Description |
| --- | --- |
| ESP32-S2-WROVER Module | Module integrating the ESP32-S2 chip that provides Wi-Fi connectivity, data processing power, and flexible data storage. |
| 4.3" LCD FPC Connector | (Reserved) Connect to a 4.3" LCD extension board using the FPC cable. |
| ESP Prog Connector | (Reserved) Connection for Espressif's download device (ESP-Prog) to flash ESP32-S2 system. |
| JTAG Switch | Switch to ON to enable connection between ESP32-S2 and FT2232; JTAG debugging will then be possible using USB-UART/JTAG Port. See also JTAG. |
| Breakout Header 2 | Some GPIO pins of the ESP32-S2-WROVER module are broken out to this header, see labels on the board. |
| USB-to-UART/JTAG Bridge | FT2232 adapter board allowing for communication over USB port using UART/JTAG protocols. |
| Camera Header | Mount a camera extension board here (e.g., ESP-LyraP-CAM). |
| Extension Header | Mount the extension boards having such connectors here. |
| Reset Button | Press this button to restart the system |
| Boot Button | Holding down Boot and then pressing Reset initiates Firmware Download mode for downloading firmware through the serial port. |
| USB-UART/JTAG Port | Communication interface (UART or JTAG) between a PC and the ESP32-S2 module. |
| USB Power Port | Power supply for the board. |
| Battery Port | Connect an external battery to the 2-pin battery connector. |
| Power On LED | Turns on when the USB or an external power supply is connected to the board. |
| Power Switch | Switch to ON to power the system. |
| RGB Jumper | To have access to the RGB LED, place a jumper onto the pins. |
| RGB LED | Programmable RGB LED and controlled by GPIO45. Before using it, you need to put RGB Jumper ON. |
| Power Regulator | Regulator converts 5 V to 3.3 V. |
| I2C FPC Connector | (Reserved) Connect to other I2C extension boards using the FPC cable. |
| Breakout Header 1 | Some GPIO pins of the ESP32-S2-WROVER module are broken out to this header, see labels on the board. |
| Touch FPC Connector | Connect the ESP-LyraP-TouchA extension board using the FPC cable. |
| Touch Switch | In OFF position, GPIO1 to GPIO14 are used for connection to touch sensors; switch to ON if you want to use them for other purposes. |
| 3.2" LCD FPC connector | Connect a 3.2" LCD extension board (e.g., ESP-LyraP-LCD32) using the FPC cable. |
Documents:
Product Includes:
ESP 32-S2-Kaluga-1 ×1
ESP-LyraT-8311A ×1
ESP-LyraP-CAM ×1
ESP-LyraP-TouchA ×1
ESP-LyraP-LCD32 ×1
20-Pin FPC Cable(to connect ESP32-S2-Kaluga-1 to ESP-LyraP-TouchA) ×1
Mounting Bolts ×8
Screws ×4
Nuts ×4
Shipping rates Australia wide
Australia wide
Express Post*
Regular Post
Courier
Up to 500 gms
$10.89
$6.59
$20
Up to 3 kg
$16.39
$11.43
$25
Up to 5 kg
$32.89
$22
NA
Above 5 kg

Estimated at checkout
Shipping rates to New Zealand
| | |
| --- | --- |
| | New Zealand |
| | Australia Post international service |
| Up to 500 gms | $18.00 |
| Up to 1 kg | $30.00 |
| Above 1 kg | Available on request |
FAQ:
How do I estimate shipping for my order?

Add products in the shopping cart and head to the 

checkout page

to estimate the shipping.
Dispatch time
Unless expressly agreed otherwise with you, we will not commence delivery of an order until we have received cleared payment of the purchase price in full.
All orders placed before 11 am AEST (Monday to Friday) will ordinarily be processed on the same day.
We will endeavour to ship the Products by the applicable time indicated on the website, but all times are indicative only.  All shipping times are dispatch times only, and actual delivery dates will depend on the shipping method chosen, delivery address and delivery service provider. 
Note- Please make a note during purchase if you require any item urgently. However we cannot guarantee that we will be able to comply with any request. 
*Go to Australia post delivery time calculation to get various Australia post service in your area please use our shipping postcode Rosanna, 3074 as the "from" address - https://auspost.com.au/parcels-mail/delivery-times.html?ilink=tools-open-deliv-times.
Shipping Destinations
We ship all products throughout mainland Australia, Tasmania and New Zealand - Including Darwin, Melbourne, Sydney, Tasmania, Adelaide, Brisbane, Perth, all metro and regional areas but do not deliver to areas in Australia where the Australia Post delivery network is not available. 
Check Express shipping delivery coverage area at - http://auspost.com.au/parcels-mail/delivery-areas.html
Receipt of deliveries
Deliveries to post office boxes are not permitted where delivery is by courier. If delivery is by courier and nobody is available at the delivery address to accept delivery when delivery is attempted then the courier may either:
leave the relevant parcel at the unattended address (the courier will do so if specified in your delivery requirements); or

re-attempt delivery at a later time or date, in which case we may charge you an additional re-delivery fee.

 
Note that if a delivery is left unattended at the shipping address and is subsequently stolen then the theft is your responsibility, not ours.