This micro:bit-based expansion board, specially designed for STEAM education, allows students to measure environmental conditions for scientific experiments by using rich on-board sensors that cover all basic aspects of nature and science in daily life, which helps them explore the related science knowledge and understand nature phenomenon. It aims to provide a platform for students to learn science theory with practices and bring science education closer to daily life!
Integrated sensors include UV sensor, temperature sensor, humidity sensor, air pressure sensor, sound sensor, light sensor, water temperature sensor, and a TDS (Total Dissolved Solids) water quality sensor, soil moisture sensor, TVOC, CO2 sensor, etc.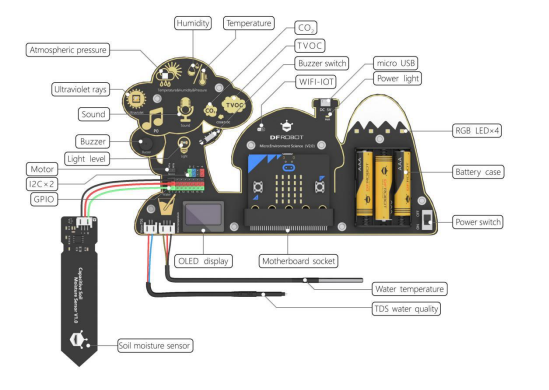 Board Overview
Features:
V2.0 Update

Comes with WiFi-IoT card, support IoT platforms such as IFTTT, ThingSpeak, EasyIoT
Supports for the measurements of TVOC and CO2
MicroUSB power supply port, battery holder is welded on the PCB, more convenient for classroom teaching
Onboard 4-way RGB lights
1-way motor driver
More powerful chip and more IO ports
Greatly optimized OLED display program, more convenient and flexible to use
The color sensor is removed from the list
Product Features

Highly-Integrated (14 function modules): atmospheric pressure, temperature, humidity, harmful gases(TVOC), carbon dioxide, ultraviolet rays, light, sound, water quality, water temperature, soil humidity, buzzer, RGB light, OLED display, and motor driver.
IoT Function: able to be accessible to famous IoT platforms such as IFTTT, ThingSpeak, and EasyIoT through the WIFI-IoT card.
The interesting shape of the tree makes the classroom teaching more vivid and fun.
Specification:
Power Supply: MicroUSB (5V ) /Three 1.5V AAA Batteries (4.5V)
(Note: Because the power consumption of WIFI-IoT card is relatively large, it may not work properly if the AAA battery is low. Please use MicroUSB port to supply power to ensure the normal operation of the product when using it for class teaching.)
Digital Port Output Voltage: 3.3V
GPIO: I2C×2 P0 P1 P2 P8 P12 P13 P14 P15 P16 
ML8511 UV Sensor
Operating Temperature: -20~70
Sensitive Area: UV-A, UV-B
Sensitivity Wavelength: 280-390nm
BME280 Environment Sensor
Operating Current: 2mA
Operating Temperature: -40~+85
Temperature Measuring Range: -40~+85Resolution 0.1Deviation±0.5
Humidity Measuring Range: 0~100%RH, Resolution 0.1%RHDeviation±2%RH
Response Time of Humidity Measurement: 1S
Atmospheric Pressure Measuring Range: 300~1100hPa
Waterproof Temperature Sensor
Temperature Display Range: -10~+85Deviation±0.5
Operating Temperature Range: -55~125
Query Time: less than 750ms
The TDS probe should not be used in water above 55.
The TDS probe should not be placed too close to the edge of the container, as this will affect the accuracy.
CCS811 Air Quality Sensor
Operating Temperature Range: -40~85
Operating Humidity Range: 10%RH~95%RH
CO2 Measuring Range: 400ppm~8000ppm
TVOC Measuring Range: 0ppb~1100ppb
Capacitive Soil Humidity Sensor
Operating Voltage: 3.3V-5.5V DC
Output Voltage: 0-3.0V DC
Connector: PH2.0-3P
Dimension: 98×23mm
RGB Light Model: WS2812
Port: P15
Output Date Type: analog value
Data Range: 0-1023
Dimension: 9mm in diameter
Model: passive buzzer
Port: P0
Output Date Type: analog value
Data Range: 0-1023
Dimension: 0.96"
Display Color: blue
Pixels: 128 × 64 
Refresh Rate: 60 fps
Brightness: 60 (Typ) cd/m2
Full-screen Lighting Consumption: about 22.75mA
Operating Temperature: -30~+70
Display Area: 21.744×10.864 (mm)
Driving Mode: PWM
Compatible Motor: Low Power DC Motors such as N20 Gear Motor and 130 Gear Motor
Wireless Mode: IEEE802.11b/g/n
Encryption Type: WPA WPA2/WPA2–PSK
Frequency: 2.4GHz
Built-in Protocol: TCP/IP protocol stack
Supported IoT Platform: EasyIoT, IFTTT, ThingSpeak, SIoT
Status Indicator:   
Red: disconnected   
Blue: connecting   
    Green: connected
Dimension: 196mm*110.6mm/7.72*4.35"
Programming Platform: MakeCode, Mind+
Documents:
Product Includes:
Environment Science Expansion Board V2.0 for micro:bit x1
Capacitive Soil Humidity Sensor x1
TDS Water Quality Sensor Probe x1
Waterproof Temperature Sensor x1
Shipping rates Australia wide and New Zealand
Please add the items in cart and proceed to checkout to calculate shipping cost. We have range of shipping options once goods are ready to dispatch. 
1. Regular shipping: Goods will be shipped using Australia post regular shipping service. 
2. Express shipping: Goods will be shipped using Australia post EXPRESS shipping service. 
3. Express split shipping: Local stock from Melbourne will be shipped ASAP (1 business day) using EXPRESS shipment while remaining items from overseas stock when arrived in Melbourne shipped using second EXPRESS shipment. 
4. Pick up from Thomastown, Melbourne is available on appointment between 9 am to 3 pm during business days. 
FAQ:
How do I estimate shipping for my order?

Add products in the shopping cart and head to the 

checkout page

to estimate the shipping.
Dispatch time
Unless expressly agreed otherwise with you, we will not commence delivery of an order until we have received cleared payment of the purchase price in full.
All orders placed before 11 am AEST (Monday to Friday) will ordinarily be processed on the same day.
We will endeavour to ship the Products by the applicable time indicated on the website, but all times are indicative only.  All shipping times are dispatch times only, and actual delivery dates will depend on the shipping method chosen, delivery address and delivery service provider. 
Note- Please make a note during purchase if you require any item urgently. However we cannot guarantee that we will be able to comply with any request. 
*Go to Australia post delivery time calculation to get various Australia post service in your area please use our shipping postcode Thomastown, 3074 as the "from" address - https://auspost.com.au/parcels-mail/delivery-times.html?ilink=tools-open-deliv-times.
Shipping Destinations
We ship all products throughout mainland Australia, Tasmania and New Zealand - Including Darwin, Melbourne, Sydney, Tasmania, Adelaide, Brisbane, Perth, all metro and regional areas but do not deliver to areas in Australia where the Australia Post delivery network is not available. 
Check Express shipping delivery coverage area at - http://auspost.com.au/parcels-mail/delivery-areas.html
Receipt of deliveries
Deliveries to post office boxes are not permitted where delivery is by courier. If delivery is by courier and nobody is available at the delivery address to accept delivery when delivery is attempted then the courier may either:
leave the relevant parcel at the unattended address (the courier will do so if specified in your delivery requirements); or

re-attempt delivery at a later time or date, in which case we may charge you an additional re-delivery fee.

 
Note that if a delivery is left unattended at the shipping address and is subsequently stolen then the theft is your responsibility, not ours.
Payment & Security
Your payment information is processed securely. We do not store credit card details nor have access to your credit card information.