This is a multifunction air quality monitor that can be detected not only the concentration of particles and formaldehyde but also the value of temperature and humidity. As the particle concentration sensor it can be used to obtain the number of suspended particles in the air by laser. It also integrates in it an electrochemical probe for formaldehyde and an one- chip sensor for temperature and humidity. The sensor can be inserted into variable instruments related to the environment parameters in the air or other environmental improvement equipments to provide correct data in time. 
Working principle:Laser scattering principle is used for such sensor, i.e. produce scattering by using laser to radiate suspending particles in the air, then collect scattering light in a certain degree, and finally obtain the curve of scattering light change with time. In the end, equivalent particle diameter and the number of particles with different diameter per unit volume can be calculated by microprocessor based on MIE theory. Please find the functional diagram of each part of sensor from Figure 1 as follows. The function of formaldehyde detector is based on the electrochemical theory and math algorithm.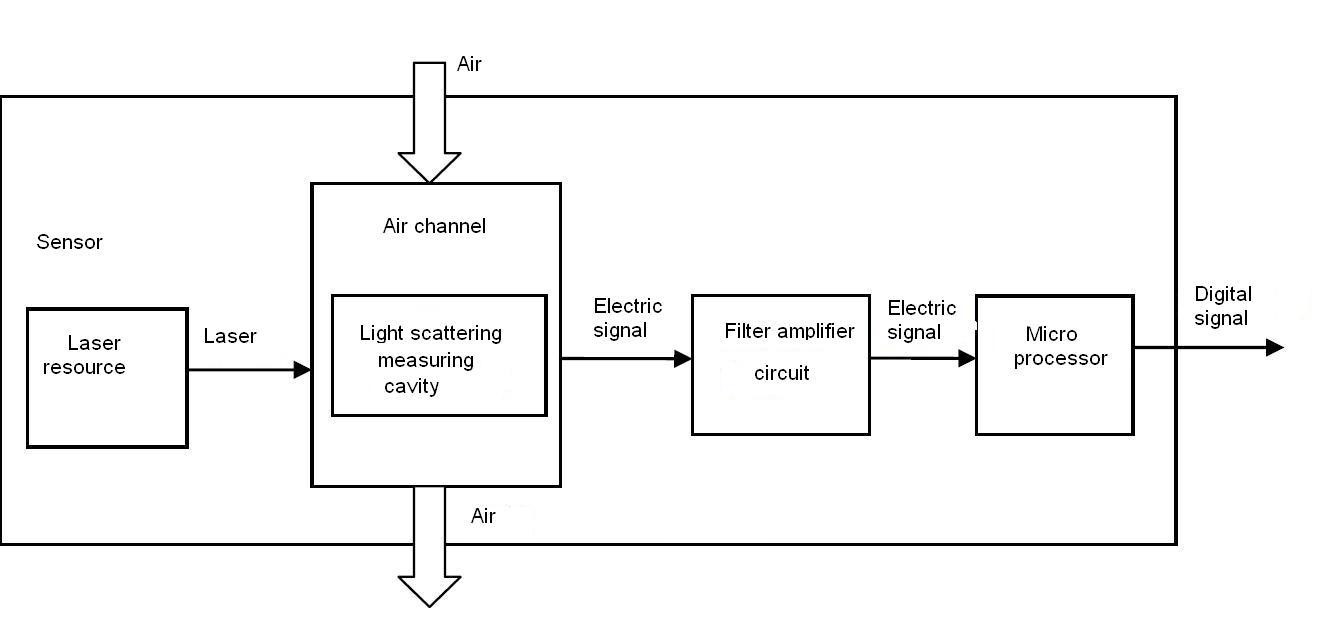 Features:
Zero false alarm rate
Real-time response
Correct data
Minimum distinguishable particle diameter :0.3 micrometer
High anti-interference performance because of the patent structure of six sides shielding
Optional direction of air inlet and outlet in order to adapt the different design
Concentration of Formaldehyde output
Temperature and Humidity output
Specification:
Operating Voltage: 5.0VDC
Active Current: 100 mA
Standby Current: ≤200 uA
Interface Level: L <0.8V@3.3V; H> 2.7V@3.3V
Particle Range of measurement: 0.3 ~ 1.0μm; 1.0 ~ 2.5μm; 2.5 ~ 10μm
Particle Counting Efficiency: 50%@0.3μm 98%@>=0.5μm
Particle Effective Range (PM2.5 standard): 0 ~ 500μg/m
Particle Maximum Range (PM2.5 standard)*: >0 ~ 2000ug / m³
Particle Resolution: 1ug / m³
Particle Maximum Consistency Error (PM2.5 standard data)*:±10%@100~500μg/m³±10μg/m³@0~100μg/m³
Particle Standard Volume: 0.1 L
Formaldehyde Effective Range: 0 ~ 1 mg / m³
Formaldehyde Maximum Range: 0 ~ 2 mg / m³
Formaldehyde Resolution: 0.001
Formaldehyde Maximum Consistency Error:
Temperature Maximum Range: -20~99 ℃
Temperature Resolution: 0.1 ℃
Temperature Maximum Error: ± 0.5 ℃
Humidity Maximum Range: 0 ~ 99%
Humidity Resolution: 0.1%
Humidity Maximum Error: ± 2%
Weight: 50g
Default Baud rate: 9600bps
Total Response time: ≤ 10s
Operating Temperature Range: -10 ~ +60 ℃
Working Humidity Range: 0~99%
MTTF: ≥ 3 years
Dimension: 50 * 38 * 21 mm/1.97*1.50*0.83 inches
Documents:
Product WIKI
More Documents
Product Includes:
Air Quality Monitor (PM 2.5, Formaldehyde, Temperature & Humidity Sensor)x1
8-Pin Cablex1
PM2.5 Adapter Boardx1
Shipping rates Australia wide
Australia wide
Express Post*
Regular Post
Courier
Up to 500 gms
$9.79
$6.75
$15.99
Up to 3 kg
$15.00
$11.40
$15.99
Up to 5 kg
$30.00
$22.11
NA
Above 5 kg

Estimated at checkout
Shipping rates to New Zealand
| | |
| --- | --- |
| | New Zealand |
| | Australia Post international service |
| Up to 500 gms | $18.00 |
| Up to 1 kg | $30.00 |
| Above 1 kg | Available on request |
FAQ:
How do I estimate shipping for my order?

Add products in the shopping cart and head to the 

checkout page

to estimate the shipping.
Dispatch time
Unless expressly agreed otherwise with you, we will not commence delivery of an order until we have received cleared payment of the purchase price in full.
All orders placed before 11 am AEST (Monday to Friday) will ordinarily be processed on the same day.
We will endeavour to ship the Products by the applicable time indicated on the website, but all times are indicative only.  All shipping times are dispatch times only, and actual delivery dates will depend on the shipping method chosen, delivery address and delivery service provider. 
Note- Please make a note during purchase if you require any item urgently. However we cannot guarantee that we will be able to comply with any request. 
*Go to Australia post delivery time calculation to get various Australia post service in your area please use our shipping postcode Rosanna, 3074 as the "from" address - https://auspost.com.au/parcels-mail/delivery-times.html?ilink=tools-open-deliv-times.
Shipping Destinations
We ship all products throughout mainland Australia, Tasmania and New Zealand - Including Darwin, Melbourne, Sydney, Tasmania, Adelaide, Brisbane, Perth, all metro and regional areas but do not deliver to areas in Australia where the Australia Post delivery network is not available. 
Check Express shipping delivery coverage area at - http://auspost.com.au/parcels-mail/delivery-areas.html
Receipt of deliveries
Deliveries to post office boxes are not permitted where delivery is by courier. If delivery is by courier and nobody is available at the delivery address to accept delivery when delivery is attempted then the courier may either:
leave the relevant parcel at the unattended address (the courier will do so if specified in your delivery requirements); or

re-attempt delivery at a later time or date, in which case we may charge you an additional re-delivery fee.

 
Note that if a delivery is left unattended at the shipping address and is subsequently stolen then the theft is your responsibility, not ours.