The Arduino Starter Kit is the ultimate educational solution for learning how to use the Arduino platform.
This kit walks you through the basics of using the Arduino© in a hands-on way. You'll learn through building several creative projects. The kit includes a selection of the most common and useful electronic components with a book of 15 projects. Starting the basics of electronics, to more complex projects, the kit will help you control the physical world with sensor and actuators.
It contains an Arduino Uno R3 board, a collection of sensors and actuators, and a book that guides the absolute beginners from their very first steps with electronics into the world of interactive and sensing objects thanks to fifteen engaging projects.

Step by step video for each project. Click on the right top corner of the video to access the youtube playlist to chance lesions. 
The projects in the kit are:
GET TO KNOW Kit an introduction 
SPACESHIP INTERFACE design to control panel for your starship
LOVE-O-METER measure how hot-blooded you are
COLOR MIXING LAMP produce any color with a lamp that uses light as an input
MOOD CUE clue people in to how you're doing
LIGHT THEREMIN create a musical instrument you play by waving your hands
KEYBOARD INSTRUMENT play music and make some noise with this keyboard
DIGITAL HOURGLASS a light-up hourglass that can stop you from working too much
MOTORIZED PINWHEEL a color wheel that will have your head spinning
ZOETROPE create a mechanical animation you can play forward or reverse
CRYSTAL BALL a mystical tour to answer all your tough question
KNOCK LOCK tap out the secret code to open the door
TOUCHY-FEEL LAMP a lamp that responds to your touch
TWEAK THE ARDUINO LOGO control your personal computer from your Arduino
HACKING BUTTONS create a master control for all your devices!
Once you've mastered this knowledge, you'll have a palette of software and circuits that you can use to create something beautiful, and make someone smile with what you invent.Then build it, hack it and share it. Because Arduino is you!
List of included parts:
1x Arduino Projects Book (170 pages)
1x Arduino UNO board rev.3
1x USB cable
1x Breadboard
1x Easy-to-assemble wooden base
1x 9v battery snap
70x Solid core jumper wires
2x Stranded jumper wires
6x Photoresistor [VT90N2 LDR]
3x Potentiometer 10kilohm
10x Pushbuttons
1x Temperature sensor [TMP36]
1x Tilt sensor
1x alphanumeric LCD (16x2 characters)
1x LED (bright white)
1x LED (RGB)
8x LEDs (red)
8x LEDs (green)
8x LEDs (yellow)
3x LEDs (blue)
1x Small DC motor 6/9V
1x Small servo motor
1x Piezo capsule [PKM17EPP-4001-B0]
1x H-bridge motor driver [L293D]
2x Optocouplers [4N35]
5x Transistor [BC547]
2x Mosfet transistors [IRF520]
5x Capacitors 100nF
3x Capacitors 100uF
5x Capacitor 100pF
5x Diodes [1N4007]
3x Transparent gels (red, green, blue)
1x Male pins strip (40x1)
20x Resistors 220 ohm
5x Resistors 560 ohm
5x Resistors 1 kilohm
5x Resistors 4.7 kilohm
10x Resistors 10 kilohm
5x Resistors 1 megohm
Resources
Starter kit based on Arduino Uno
Shipping rates Australia wide
Australia wide
Express Post*
Regular Post
Courier
Up to 500 gms
$10.89
$6.59
$20
Up to 3 kg
$16.39
$11.43
$25
Up to 5 kg
$32.89
$22
NA
Above 5 kg

Estimated at checkout
Shipping rates to New Zealand
| | |
| --- | --- |
| | New Zealand |
| | Australia Post international service |
| Up to 500 gms | $18.00 |
| Up to 1 kg | $30.00 |
| Above 1 kg | Available on request |
FAQ:
How do I estimate shipping for my order?

Add products in the shopping cart and head to the 

checkout page

to estimate the shipping.
Dispatch time
Unless expressly agreed otherwise with you, we will not commence delivery of an order until we have received cleared payment of the purchase price in full.
All orders placed before 11 am AEST (Monday to Friday) will ordinarily be processed on the same day.
We will endeavour to ship the Products by the applicable time indicated on the website, but all times are indicative only.  All shipping times are dispatch times only, and actual delivery dates will depend on the shipping method chosen, delivery address and delivery service provider. 
Note- Please make a note during purchase if you require any item urgently. However we cannot guarantee that we will be able to comply with any request. 
*Go to Australia post delivery time calculation to get various Australia post service in your area please use our shipping postcode Rosanna, 3074 as the "from" address - https://auspost.com.au/parcels-mail/delivery-times.html?ilink=tools-open-deliv-times.
Shipping Destinations
We ship all products throughout mainland Australia, Tasmania and New Zealand - Including Darwin, Melbourne, Sydney, Tasmania, Adelaide, Brisbane, Perth, all metro and regional areas but do not deliver to areas in Australia where the Australia Post delivery network is not available. 
Check Express shipping delivery coverage area at - http://auspost.com.au/parcels-mail/delivery-areas.html
Receipt of deliveries
Deliveries to post office boxes are not permitted where delivery is by courier. If delivery is by courier and nobody is available at the delivery address to accept delivery when delivery is attempted then the courier may either:
leave the relevant parcel at the unattended address (the courier will do so if specified in your delivery requirements); or

re-attempt delivery at a later time or date, in which case we may charge you an additional re-delivery fee.

 
Note that if a delivery is left unattended at the shipping address and is subsequently stolen then the theft is your responsibility, not ours.
Customer Reviews
Write a Review
Ask a Question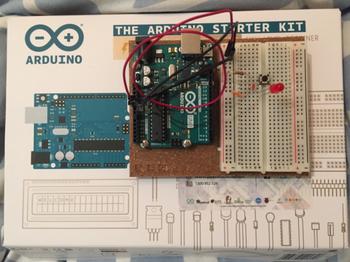 13/09/2018
Great kit
I was very excited to order the arduino starter kit! I ordered it on Sunday night and received it on Wednesday. Other online shops had longer shipping times so I'm happy that the postage was quick and it arrived safely. As for the kit, the initial set up was easy and the book might be a slightly outdated (installation instructions) but it's easy to work out. I've completed the first project so far and the instructions are clear. The book contains a nice explanation of the components. Good for beginners.
26/10/2020
Arduino Starter Kit
It's a fantastic learning experience for children
Anonymous
Australia
25/10/2020
Speedy service
Couldn't have been easier from search to order to package at our front door.
NATHAN V.
Australia
12/07/2020
Cheap and Fast delivery
Excellent. Cheaper than most everywhere else. And fast delivery!
Anonymous
Australia
08/07/2020
Good service and quality
Delivery within 2 business days. I ordered on Friday and received on Monday. Not as advertising on the web (24h delivery), but still very good in quarantine. The product quality is OK. The box is a little dirty. Overall, great service!!
Anonymous
Australia
Thank you for taking time to write. I think you may misunderstand our processing time with delivery time. As we use third-party courier/delivery companies so we can not control their services. We only mention our processing time (Ships in). You can read more here https://support.pakronics.com.au/support/solutions/articles/8000038687-shipping-lead-time-for-the-components- Looking forward to seeing you back. Enjoy making.