Description
Is this not the cutest little display for the Raspberry Pi? It features a 2.8" display with 320x240 16-bit color pixels and a capacitive touch overlay. That's right, instead of a resistive touchscreen, which requires a fingernail or stylus, you can now use a fingerpad. The screen looks much nicer, with a black bezel and glass overlay. If you don't need a capacitive touchscreen, check out the resistive touch version.
This updated design fits perfectly onto the Pi Zero, Pi 3, Pi 2 or Model A+, B+! (Any Pi with a 2x20 connector) Not for use with an old Pi 1 with 2x13 connector If you'd like to use a 2.8" display with the original Pi A or Pi B, check out the Model B version. This version also has all 40 pins GPIO pins brought out so you can connect a 40-pin GPIO cable underneath. Now that it's the same outline as a Pi 3/2/B+ it fits well on top of a Pi in our Raspberry Pi Enclosure base and can use our faceplate for a compact touchscreen Pi
The display and touchscreen uses the hardware I2C Pins (SDA & SCL), SPI pins (SCK, MOSI, MISO, CE0) as well as GPIO #25 and #24. All other GPIO are unused and you can still share the I2C pins with sensors, LED drivers, etc. Since we had a tiny bit of space, there's 4 slim tactile switches wired to four GPIOs, that you can use if you want to make a basic user interface. For example, you can use one as a power on/off button.
Use it for console access or easily pop up X11 onto the PiTFT for a mini monitor, although its rather small at 320x240. Instead, we recommend using PyGame or other SDL-drawing programs to write onto the frame buffer.
Raspberry Pi computer and enclosure not included! As of July 22nd, 2015 this display comes fully assembled with tactile switches too
Check out our detailed tutorial on how to play videos, display images, and otherwise customize your PiTFT.
 
Shipping rates Australia wide 
Australia wide
Express Post*
Regular Post
Courier
Up to 500 gms
$10.89
$6.59
$20
Up to 3 kg
$16.39
$11.43
$25
Up to 5 kg
$32.89
$22
NA
Above 5 kg

Estimated at checkout
 Shipping rates to New Zealand
| | |
| --- | --- |
| | New Zealand |
| | Australia Post international service |
| Up to 500 gms | $18.00 |
| Up to 1 kg | $30.00 |
| Above 1 kg | Available on request |
FAQ:
How do I estimate shipping for my order?

Add products in the shopping cart and head to the 

checkout page

to estimate the shipping.
Dispatch time
Unless expressly agreed otherwise with you, we will not commence delivery of an order until we have received cleared payment of the purchase price in full.
All orders placed before 11 am AEST (Monday to Friday) will ordinarily be processed on the same day.
We will endeavour to ship the Products by the applicable time indicated on the website, but all times are indicative only.  All shipping times are dispatch times only, and actual delivery dates will depend on the shipping method chosen, delivery address and delivery service provider. 
Note- Please make a note during purchase if you require any item urgently. However we cannot guarantee that we will be able to comply with any request. 
*Go to Australia post delivery time calculation to get various Australia post service in your area please use our shipping postcode Rosanna, 3074 as the "from" address - https://auspost.com.au/parcels-mail/delivery-times.html?ilink=tools-open-deliv-times.
Shipping Destinations
We ship all products throughout mainland Australia, Tasmania and New Zealand - Including Darwin, Melbourne, Sydney, Tasmania, Adelaide, Brisbane, Perth, all metro and regional areas but do not deliver to areas in Australia where the Australia Post delivery network is not available. 
Check Express shipping delivery coverage area at - http://auspost.com.au/parcels-mail/delivery-areas.html
Receipt of deliveries
Deliveries to post office boxes are not permitted where delivery is by courier. If delivery is by courier and nobody is available at the delivery address to accept delivery when delivery is attempted then the courier may either:
leave the relevant parcel at the unattended address (the courier will do so if specified in your delivery requirements); or

re-attempt delivery at a later time or date, in which case we may charge you an additional re-delivery fee.

 
Note that if a delivery is left unattended at the shipping address and is subsequently stolen then the theft is your responsibility, not ours.
Customer Reviews
Write a Review
Ask a Question
PiTFT Plus 320x240 2.8" TFT + Capacitive Touchscreen Mini Kit
Great device and great advice from Pathik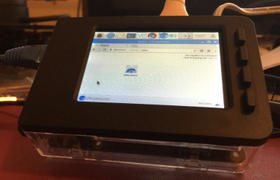 Payment & Security
Your payment information is processed securely. We do not store credit card details nor have access to your credit card information.