Arduboy is an open platform for people to play, create and share games. A game system the size of a 
           credit card. Choose your favorite classic game from the completely free Arduboy Arcade. Built on the 
           popular Arduino software, it's also an excellent way to learn how to program! Because you can learn to 
           make your own games, Arduboy is a game system the size of your imagination!
1.3″ Brilliant Black & White OLED Display

6 Tactile Momentary Push Buttons

2 Channel Piezo Speaker

Durable Metal & Polycarbonate Construction

8+ Hour Battery Life & Rechargeable

Fully Programmable with Arduino!
Processor: ATmega32u4 (same as Arduino Leonardo & Micro)

Memory: 32KB Flash, 2.5KB RAM, 1KB EEPROM

Connectivity: USB 2.0 w/ built in HID profile

Inputs: 6 momentary tactile buttons 

Outputs: 128x64 1Bit OLED, 2 Ch. Piezo Speaker & Blinky LED

Battery: 180 mAh Thin-Film Lithium Polymer

Programming: Codebender, Arduino IDE, GCC & AVRDude
           A polycarbonate front, ultra-thin circuit board, and stamped metal back gave us the ultimate combination. 
           A rechargeable lithium polymer battery provides over 8 hours of battery life, and the same cable you use 
           to charge can be used to upload new games!
           Every game published on Arduboy Arcade will be free, open source and available to be edited. We have 
           sent out over a hundred developer kits and here are a few titles the community has built and we are work-
           -ing on adapting to the platform:
           Special thanks to the Arduino Gaming Community!! We are proud to join the party of open source gam-
           -ing started by these awesome projects that pioneered the way to make and share games!
  You can find various games from Arduboy community here.
 PART LIST
              • 1x Arduboy (Color: White)
 Check out quick starter guide from here - https://community.arduboy.com/t/quick-start-guide/2790
Shipping rates Australia wide
Australia wide
Express Post*
Regular Post
Courier
Up to 500 gms
$9.79
$6.75
$15.99
Up to 3 kg
$15.00
$11.40
$15.99
Up to 5 kg
$30.00
$22.11
NA
Above 5 kg

Estimated at checkout
Shipping rates to New Zealand
| | |
| --- | --- |
| | New Zealand |
| | Australia Post international service |
| Up to 500 gms | $18.00 |
| Up to 1 kg | $30.00 |
| Above 1 kg | Available on request |
FAQ:
How do I estimate shipping for my order?

Add products in the shopping cart and head to the 

checkout page

to estimate the shipping.
Dispatch time
Unless expressly agreed otherwise with you, we will not commence delivery of an order until we have received cleared payment of the purchase price in full.
All orders placed before 11 am AEST (Monday to Friday) will ordinarily be processed on the same day.
We will endeavour to ship the Products by the applicable time indicated on the website, but all times are indicative only.  All shipping times are dispatch times only, and actual delivery dates will depend on the shipping method chosen, delivery address and delivery service provider. 
Note- Please make a note during purchase if you require any item urgently. However we cannot guarantee that we will be able to comply with any request. 
*Go to Australia post delivery time calculation to get various Australia post service in your area please use our shipping postcode Rosanna, 3074 as the "from" address - https://auspost.com.au/parcels-mail/delivery-times.html?ilink=tools-open-deliv-times.
Shipping Destinations
We ship all products throughout mainland Australia, Tasmania and New Zealand - Including Darwin, Melbourne, Sydney, Tasmania, Adelaide, Brisbane, Perth, all metro and regional areas but do not deliver to areas in Australia where the Australia Post delivery network is not available. 
Check Express shipping delivery coverage area at - http://auspost.com.au/parcels-mail/delivery-areas.html
Receipt of deliveries
Deliveries to post office boxes are not permitted where delivery is by courier. If delivery is by courier and nobody is available at the delivery address to accept delivery when delivery is attempted then the courier may either:
leave the relevant parcel at the unattended address (the courier will do so if specified in your delivery requirements); or

re-attempt delivery at a later time or date, in which case we may charge you an additional re-delivery fee.

 
Note that if a delivery is left unattended at the shipping address and is subsequently stolen then the theft is your responsibility, not ours.
Customer Reviews
Write a Review
Ask a Question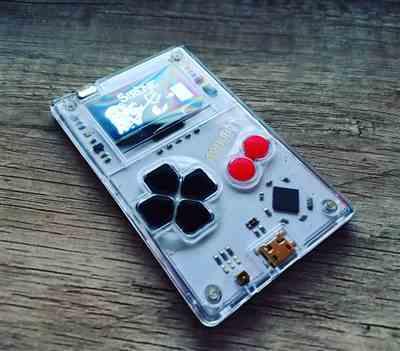 18/09/2019
Excellent product!!! Fast delivery
Thank you so much for this great product, comes with an inbuilt game as well.
Antonios K.
Australia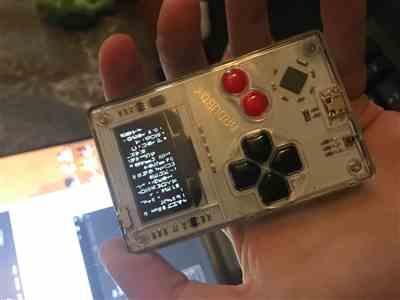 03/08/2019
Great item
If you or a someone are in to coding or like retro style thing I would highly recommended this item as a gift or to just for self
Mark G.
Australia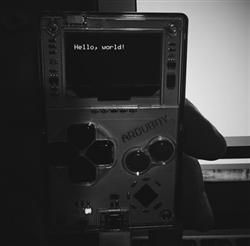 21/12/2017
Stoked
Arduboy is awesome! I've never done coding before and thought I should have a go. I think this is designed for novices so it was a great starting point. I made my first Hello, world! and ran through some other tutorials on the community hub. The games are fun too, but you can only have one thing on the device at a time, which is fine and I knew this buying into it. The quality and fit and finish is good. I'm excited to learn more and try my hand at something I design myself into the future. I'm also keen to share this with my four-year old son who I think will enjoy the games too. Great purchase, and really quick shipping. :)
29/04/2020
Arduboy!
Love this product! Super fun to play and a crazy amount of games out there. I have already learnt some basic code that I was able to see come to life on this little guy too. 100% recommend for even a total newbie to coding and arduino. Shipping from Pakronics was quick and hassle free
Katie M.
Australia
11/03/2020
Arduboy console
great site, fast delivery
Anonymous
Australia