What is mBot?
‌
mBot is an all-in-one solution to enjoy the hands-on experience of programming, electronics, and robotics. Working with mBlock inspired by Scratch 2.0 , connecting with computers or smart devices via Bluetooth , this easy-to-assemble mBot provides infinite possibilities for you to learn STEM (Science, Technology, Engineering, Mathematics).
‌
Create a wide range of different shapes with mBot's flexible body
‌
mBot has 4 expansion ports, and can connect to more than 100 kinds of electronic modules. Children can use a variety of add-on packs and more than 500 parts on the Maker's Platform to build a variety of imaginative shapes. During construction, they will learn about the principles of electronics and mechanics and lay the foundations for understanding robots. mBot is also compatible with modular bricks meaning game play can continue to grow over time.
‌
3D building tutorials improve children's spatial intelligence
‌
mBot uses modular design. The electronic modules and main board interface are colour coded so that the corresponding colours can be connected easily. All you need to get building is a screwdriver. We have also designed a 3D Construction Guide with simply worded instructions, that takes children through the complete step by step, and helps build their spatial intelligence.3D Construction Guide in the Makeblock App. 
With 3 intelligent control modes, controlling mBot is easy
‌
mBot is ready to go! It comes with 3 preset control modes:
‌
① Obstacle avoidance mode, mBot can automatically sense an obstacle ahead and change its path in time to avoid it;
② Line-follow mode, mBot can travel freely along various black and white lines;
‌
③ Manual control mode, children can use the remote control or the Makeblock app to program mBot directly and explore its countless other possibilities.
‌
A variety of additional programming software supports children, helping them become experts from scratch
‌
The Makeblock App is a piece of powerful operating software. It enables children to control their mBot at the touch of a button, or combine the preset control settings any way they choose. mBot is even simple enough for children who have not yet learned to read. Do you want to explore more complicated functions? Try mBlock 3 block-based programming. By simply dragging, dropping, and combining command blocks, just like building blocks, children can control mBot's every move and create their own personal robot.
‌
Gamification makes learning programming endless fun
‌
The mBolck Blocky gamified learning app makes learning and playing one and the same. The mBolck Blocky has designed game levels which are easy to understand and learn from, each new level adding to a child's programming knowledge. Mr. Panda guides children through the app step by step, as they learn to program their mBot remotely, unlock different knowledge points, and master new programming skills one by one.
Specifications

Software and programming
mBlock(graphical) Mac, Windows, 

 

iPad mBlocky
Arduino IDE
Inputs
Light Sensor, Button, IR Receiver, Me Ultrasonic Sensor, Me Line-follower Sensor
Outputs
Buzzer, RGB LED, IR Transmitter, two motor ,ports
Microcontroller
Based on Arduino Uno
Power
3.7V Lithium battery(charger on board) or four 1.5V AA batteries (not included)
Wireless Communication
Bluetooth(Bluetooth Version)
2.4GHz wireless serial(2.4G Version)
Dimensions
17 x 13 x 9 cm assembled
Bluetooth Version

1 × Chassis

1 × Bluetooth Module
1 × Me Line-follower Sensor
1 × AA Battery Holder
1 × mCore Case
1 × Lithium Battery Shell
1 × Line-follower Map
2 × Wheel
1 × Mini Wheel
2 × RJ25 Cable
2 × Velcro Sticker Pad
1 × Screwdriver
4 × M4x25mm Brass Stud
1 × USB Cable
15 × M4x8mm Screw
4 × M2.2x9mm Self-drilling Screw
8 × M3 Nut
6 × M3x25mm Screw
2 × Motor
1 × mCore
1 × Me Ultrasonic Sensor
1 × IR Controller(gift)
We have range of courses for the mBot - here
If you are planning to use the mBot with PC/ Laptop then please buy Bluetooth dongle for the wireless connectivity - https://www.pakronics.com.au/products/bluetooth-dongle-mb-p5010002
Shipping rates Australia wide
Australia wide
Express Post*
Regular Post
Courier
Up to 500 gms
$9.79
$6.75
$15.99
Up to 3 kg
$15.00
$11.40
$15.99
Up to 5 kg
$30.00
$22.11
NA
Above 5 kg

Estimated at checkout
Shipping rates to New Zealand
| | |
| --- | --- |
| | New Zealand |
| | Australia Post international service |
| Up to 500 gms | $18.00 |
| Up to 1 kg | $30.00 |
| Above 1 kg | Available on request |
FAQ:
How do I estimate shipping for my order?

Add products in the shopping cart and head to the 

checkout page

to estimate the shipping.
Dispatch time
Unless expressly agreed otherwise with you, we will not commence delivery of an order until we have received cleared payment of the purchase price in full.
All orders placed before 11 am AEST (Monday to Friday) will ordinarily be processed on the same day.
We will endeavour to ship the Products by the applicable time indicated on the website, but all times are indicative only.  All shipping times are dispatch times only, and actual delivery dates will depend on the shipping method chosen, delivery address and delivery service provider. 
Note- Please make a note during purchase if you require any item urgently. However we cannot guarantee that we will be able to comply with any request. 
*Go to Australia post delivery time calculation to get various Australia post service in your area please use our shipping postcode Rosanna, 3074 as the "from" address - https://auspost.com.au/parcels-mail/delivery-times.html?ilink=tools-open-deliv-times.
Shipping Destinations
We ship all products throughout mainland Australia, Tasmania and New Zealand - Including Darwin, Melbourne, Sydney, Tasmania, Adelaide, Brisbane, Perth, all metro and regional areas but do not deliver to areas in Australia where the Australia Post delivery network is not available. 
Check Express shipping delivery coverage area at - http://auspost.com.au/parcels-mail/delivery-areas.html
Receipt of deliveries
Deliveries to post office boxes are not permitted where delivery is by courier. If delivery is by courier and nobody is available at the delivery address to accept delivery when delivery is attempted then the courier may either:
leave the relevant parcel at the unattended address (the courier will do so if specified in your delivery requirements); or

re-attempt delivery at a later time or date, in which case we may charge you an additional re-delivery fee.

 
Note that if a delivery is left unattended at the shipping address and is subsequently stolen then the theft is your responsibility, not ours.
Customer Reviews
Write a Review
Ask a Question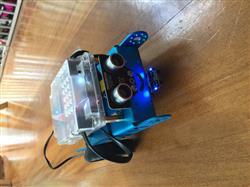 09/05/2017
Great service!
It was really easy. Goods arrived on time and in perfect condition. Great little robot too!my nephew loves it.
22/04/2016
MBot
Excellent, works very well and fantastic service with fast delivery and easy payment
20/03/2020
Mbot
It was a gift to my nephew so I haven't used it
Mark G.
Australia
28/02/2020
Great service from Paktron
This has been a good learning experience for my son. He has put the robot together and is using it as part of a class with the plan of going in the Robo cup this year.
Anonymous
Australia
13/01/2020
A STEAM workshop using mBot
This is my third mBot and I will be using it to present a STEM workshop next Monday on AI and Robotics. Starting with the AI and the NVIDIA Jetbot deep learning will be explored and applied to robotics. The following day I will go back to basics and use mBot and various optical navigation schemes such as line detectors and a Pixy2 camera to navigate mBot. mBot will be used as a fire fighting robot and will recognise water, fire and houses. Steel balls will be used to simulate water and a Grove electromagnet controlled by mBot will pickup the water and deliver it to houses near the fire. Hope that kids attending the working will develop a real fire fighting robot in the future. mBot is still the best supported simple robot for STEM education and encourages discovery,creativity and learning about robotics.
Philip M.
Australia