Description
Take your whole class on the road to STEAM learning with the indi Class Pack. indi is Sphero's entry-level robot designed to introduce early learners to computational thinking, STEAM, and computer science principles. This Class Pack provides educators with all the resources and tools needed to get an entire class up and running with indi robots.

The indi Class Pack includes 8 indi robots, 8 cases for charging, transporting and storing, an in-depth Educator Guide Book, Beginner's Programming Challenge Cards, and durable silicone colour tiles and accessories so nobody will get lost along the way.
indi's printed guides and materials will steer you in the right direction for getting started with problem solving and learning the basics of computational thinking in the classroom or at home.

indi offers a screenless programming experience with an on-board colour sensor. Students can also take their learning even further with more options in the free Sphero Edu Jr app.

This Class Pack provides versatile and simple implementation tools and materials to get students started on their robotics journey. 
Design & create - design and build any maze imaginable, just like an engineer
Screenless learning - sharpen computational thinking skills with the included colour tiles through hands-on interactive play
Coding concepts - learn basic programming skills with our new drag and drop blocks in the Sphero Edu Jr app, designed just for indi
Educator resources - seamless implementation with in-depth activities and lessons in the included support materials
On-board colour sensor - the colour sensor and colour tiles provide endless opportunities to rev kids' creativity by building mazes that program indi to drive
Endless activities - endless fun and learning with the printed materials that have activities with ranging complexity
Durable materials - equipped with durable classroom materials to keep the emphasis on the learning and protect and organise all the Class Pack components

Educator Guide Book
Each Class Pack includes an Educator Guide. Each lesson is broken down into four main components:

Exploration: All learners, especially young learners, benefit from being able to freely explore something new. Through the process, learners develop questions, find answers, and begin to generate new ideas.
Skills building: Skills Building highlights the skills used during this particular activity. These skills are developed and reinforced through focused practice.
Challenge: Learners apply their skills and ideas to successfully complete a challenge to demonstrate their level of learning during the activity.
Extended challenge: An extended challenge is provided when there is a chance for students to demonstrate additional understanding and skills development.

Classroom Use
Each indi Class Pack includes an Educator Guide with strategies from getting started to providing the best lessons for students.
The individual student cases contain everything each group needs (1 indi, 20 durable silicone colour tiles, 15 Beginner's Programming Challenge Cards). Student cases are perfect for groups of four or more.
Create a roadway with the durable silicone colour tiles to help indi navigate any environment.
Send indi home in the durable student case, which includes a quick start guide for parents and a checklist of contents so nothing is left behind.
The indi Power Pack allows 8 indis to charge at once safely inside a durable hard case.
Each indi Class Pack includes stickers for teachers to label and individualise indi for each group.

Sphero Edu Jr App
Learn the basics of programming with the colour tiles or level up with Sphero's all new drag and drop blocks in the free Sphero Edu Jr app, designed just for indi.
Control how indi reacts to the world through intuitive yet powerful programming blocks or enhance computational thinking skills by creating new patterns and solving puzzles.
Sends the program directly to indi, so you don't have to worry about disconnections while running your program or solving mazes
Reprogram how indi responds to different colours by choosing from a variety of movements, lights, and sounds that appear when you navigate over the associated colour tile
Control indi's movements with different program directions and animated movements like a celebration dance
Control indi's lights and choose between solid colours and different light patterns on the top LED
Control the sounds your robot makes and have indi play notes to songs as it passes over the colour tiles
Send a custom program to indi and have your students try to figure out what was sent
In addition to programming indi, Sphero Edu Jr allows you to drive indi with intuitive controls
Learn more about Sphero Edu Jr

here

.

Storage
indi comes with specially designed cases for convenient carrying, storing, and charging.

Individual Student Cases
Each Class Pack includes 8 individual student cases designed for 1 to 3 students (1 indi, 20 durable silicone colour tiles, 15 Beginner's Programming Challenge Cards). Send indi home with students for at-home learning or homeschool lessons to ignite a passion for problem solving and encourage creative expression.
Charging Case
The indi Charging Case allows 8 indi robots to safely charge at once inside a durable hard case.
Classroom Tote
The Classroom Tote allows you to store and transport indi and all support materials to and from learning spaces. Easily store and carry 8 individual Student Kits, the Charging Case, and all supporting resources with the Classroom Tote Bag. This bag is made from a durable but lightweight polyester material with a zipper, individual compartments, and strap for carrying.

What's in the box:
8 x indi robots
8 x Durable student cases
1 x Charging case to charge and store 8 indi robots
1 x Educator Guide Book
8 x Sets of 15 Beginner's Programming Challenge Cards (15 per student case)
1 x Classroom tote
160 x Durable silicone colour tiles (20 per student case)
2 x Sets of 30 replacement colour cards with adhesive tape sheets
2 x Decorative sticker sheets for students to customise indi
8 x Charging cables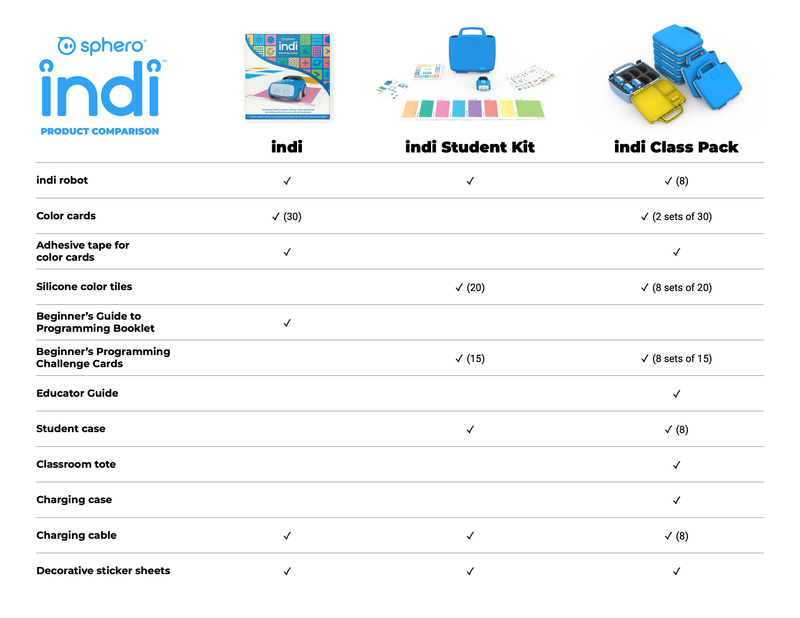 Shipping rates Australia wide 
Australia wide
Express Post*
Regular Post
Courier
Up to 500 gms
$13.09
$8
$20
Up to 3 kg
$16.39
$11.43
$25
Up to 5 kg
$32.89
$22
NA
Above 5 kg

Estimated at checkout
 Shipping rates to New Zealand
| | |
| --- | --- |
| | New Zealand |
| | Australia Post international service |
| Up to 500 gms | $18.00 |
| Up to 1 kg | $30.00 |
| Above 1 kg | Available on request |
FAQ:
How do I estimate shipping for my order?

Add products in the shopping cart and head to the 

checkout page

to estimate the shipping.
Dispatch time
Unless expressly agreed otherwise with you, we will not commence delivery of an order until we have received cleared payment of the purchase price in full.
All orders placed before 11 am AEST (Monday to Friday) will ordinarily be processed on the same day.
We will endeavour to ship the Products by the applicable time indicated on the website, but all times are indicative only.  All shipping times are dispatch times only, and actual delivery dates will depend on the shipping method chosen, delivery address and delivery service provider. 
Note- Please make a note during purchase if you require any item urgently. However we cannot guarantee that we will be able to comply with any request. 
*Go to Australia post delivery time calculation to get various Australia post service in your area please use our shipping postcode Rosanna, 3074 as the "from" address - https://auspost.com.au/parcels-mail/delivery-times.html?ilink=tools-open-deliv-times.
Shipping Destinations
We ship all products throughout mainland Australia, Tasmania and New Zealand - Including Darwin, Melbourne, Sydney, Tasmania, Adelaide, Brisbane, Perth, all metro and regional areas but do not deliver to areas in Australia where the Australia Post delivery network is not available. 
Check Express shipping delivery coverage area at - http://auspost.com.au/parcels-mail/delivery-areas.html
Receipt of deliveries
Deliveries to post office boxes are not permitted where delivery is by courier. If delivery is by courier and nobody is available at the delivery address to accept delivery when delivery is attempted then the courier may either:
leave the relevant parcel at the unattended address (the courier will do so if specified in your delivery requirements); or

re-attempt delivery at a later time or date, in which case we may charge you an additional re-delivery fee.

 
Note that if a delivery is left unattended at the shipping address and is subsequently stolen then the theft is your responsibility, not ours.
Payment & Security
Your payment information is processed securely. We do not store credit card details nor have access to your credit card information.